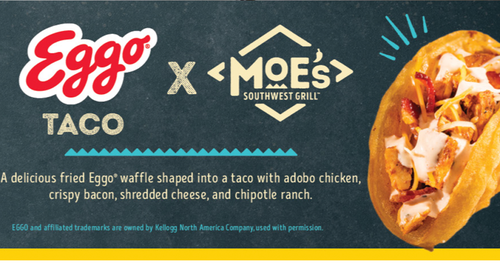 Title: Experience the Perfect Blend of Deliciousness with FREE Eggo Tacos at Moe's!
Introduction:
Calling all breakfast lovers and taco aficionados! We have an exciting announcement that will make your taste buds dance with joy. Moe's is treating its customers to a mouthwatering promotion – FREE Eggo Tacos with any purchase! Prepare to indulge in the ultimate fusion of savory and sweet flavors, sure to satisfy your cravings. Read on to discover all the delectable details of this limited-time offer!
Experience the Magic of Eggo Tacos:
Starting at 10 am on October 4th, 2023, Moe's is cooking up something extraordinary – FREE Eggo Tacos! This delightful creation brings together the crispy texture and unmistakable taste of Eggo waffles with a delectable filling of your choice. Indulge in savory bacon, fluffy scrambled eggs, and melted cheese, all wrapped in the warm embrace of an Eggo waffle taco shell. It's a breakfast dream come true!
Participating Locations:
To ensure you don't miss out on this extraordinary offer, make your way to one of the participating Moe's locations. This sizzling treat will be available exclusively at the following areas: Atlanta, North Jersey, Long Island, and South Florida. So gather your friends, mark your calendars, and head to your nearest Moe's restaurant to devour these delectable Eggo Tacos!
How to Redeem the Offer:
Getting your hands on these FREE Eggo Tacos is as easy as pie (or, in this case, taco!). Simply make any purchase at the participating Moe's restaurants during the promotional period. With the sweet melody of Eggo waffles in the air, treat yourself to Moe's flavorful menu options and experience the sheer delight of a complimentary Eggo Taco added to your order. It's a match made in breakfast heaven!
Spread the Word:
Don't keep this incredible news to yourself! Share the excitement with your friends, family, and fellow food enthusiasts. Post about it on your social media accounts, send a quick text to your brunch buddies, or spread the word over a cup of coffee. Let everyone know that Moe's is serving up the ultimate breakfast delight – FREE Eggo Tacos! Guaranteed, they'll thank you later.
Conclusion:
Imagine the delight of biting into a warm, crispy Eggo Taco and savoring the perfect combination of breakfast flavors. Thanks to Moe's, this dream can become a reality! Make sure to set your alarms and get ready to grab this delicious treat starting at 10 am on October 4th, 2023, at the participating locations in Atlanta, North Jersey, Long Island, and South Florida.
Don't miss out on this heavenly offer! Whether you're a taco fanatic or just appreciate the simple pleasure of a mouthwatering breakfast, Moe's FREE Eggo Tacos will leave you wanting more. Stay tuned for further updates, and remember to spread the word to your fellow food enthusiasts. It's time to experience the perfect blend of deliciousness!
Register now to receive exclusive updates and be the first to know about upcoming promotions and events at Moe's. Click the link below and join our mailing list!
[Register Now]
Claim this great opportunity today.