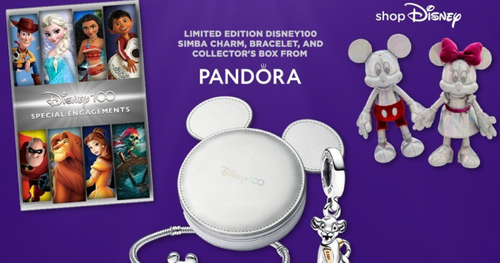 Cinemark's Disney100 Week 7 Sweepstakes
Are you a Disney fan who can't get enough of the magic, the characters, and the enchantment? If so, you won't want to miss out on the incredible opportunity to enter Cinemark's Disney100 Week 7 Sweepstakes! Trust us, you won't want to let this chance slip away.
What's at stake, you ask? Well, my friend, the lucky winner will receive an amazing prize pack worth a whopping $560! Just imagine what you could do with that kind of Disney magic.
Let's break it down. The prize pack includes not one, but three incredible items that will have any Disney lover jumping for joy. First up, we have a stunning Pandora Jewelry Set. With its intricate details and enchanting design, this jewelry set is the perfect way to add a touch of Disney-inspired elegance to any outfit.
But that's not all. The prize pack also includes a Mickey and Minnie Platinum Plush. These iconic Disney characters have captured the hearts of millions, and now you can have your very own plush set to cuddle up with and cherish.
Last but certainly not least, the winner will also receive a Special Engagement Poster. This exclusive piece of Disney memorabilia is a must-have for any collector or avid Disney enthusiast. Hang it on your wall and let it transport you to the magical world of Disney every single day.
Now, let's talk about how you can enter this incredible sweepstakes. It's as easy as one, two, three! Simply head over to the official entry page and fill out the required information. Remember, this is a one-time entry, so make sure you take advantage of this opportunity before it's too late.
But wait, there's more! The sweepstakes doesn't end until October 4th, 2023, giving you plenty of time to rally your friends and family to enter as well. Imagine the excitement if one of you were to win!
So, what are you waiting for? The chance to win an amazing prize pack worth $560 doesn't come around every day. Don't let this opportunity slip away! Enter Cinemark's Disney100 Week 7 Sweepstakes today and let the Disney magic come to life in your own home.
Remember, dreams really do come true, especially when you have a little Disney magic on your side. Good luck and may the odds be ever in your favor!
[Register now for your chance to win the incredible Cinemark's Disney100 Week 7 Sweepstakes prize pack! Click here to enter.]
Claim this great opportunity today.