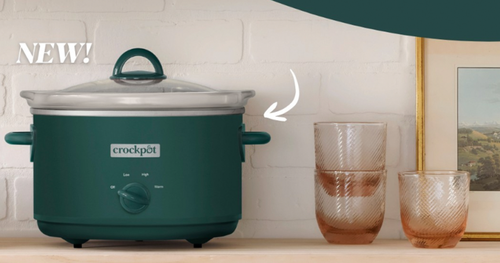 Unlock the Aroma of Delicious Meals with the Crock-Pot Ponderosa Giveaway!
Calling all food enthusiasts and culinary connoisseurs! Are you ready to unleash your inner chef and whip up mouthwatering meals with ease? Look no further than the Crock-Pot Ponderosa Giveaway, where you could be one of the lucky winners to walk away with a Crock-Pot Manual Design Series 4.5 Quart Slow Cooker! Yes, you heard it right – the chance to elevate your cooking game is just a few clicks away.
Imagine coming home after a long day, greeted by the tantalizing scent of a perfectly cooked meal permeating throughout your entire home. With the Crock-Pot Ponderosa, this dream can become a delicious reality. This incredible slow cooker is designed to simplify your life and make cooking effortless, saving you precious time and energy while still ensuring a truly delectable result.
The 4.5 quart capacity of the Crock-Pot Ponderosa means it's perfect for feeding the whole family or hosting dinner parties with friends. Whether you're tackling a hearty beef stew, a flavorful vegetable curry, or even preparing a tender roast for Sunday dinner, this slow cooker has got you covered. Just add your ingredients, set the temperature, and let the magic happen!
What sets the Crock-Pot Ponderosa apart from the rest? Its sleek and stylish design, of course! This manual design series slow cooker not only performs impeccably but also adds a touch of elegance to your kitchen countertop. With its eye-catching aesthetics, you'll be proud to show it off during your next social gathering.
Now, let's get down to the exciting part – how to enter the Crock-Pot Ponderosa Giveaway. This is your chance to join the ranks of winners, taking home this exceptional slow cooker to upgrade your culinary experience. And the best part? It's a one-time entry, so you don't have to worry about missing out on multiple opportunities to win.
So, mark your calendars, set a reminder, and make sure you don't miss out on this incredible opportunity. The Crock-Pot Ponderosa Giveaway ends on October 5th, 2023, at 11:59 pm. It's a limited-time offer that you won't want to pass up.
To seize your chance to win, simply visit our registration page and enter your details. By participating, you'll be in the running for one of three Crock-Pot Manual Design Series 4.5 Quart Slow Cookers. Picture yourself preparing delicious meals effortlessly, all thanks to this incredible kitchen companion.
Don't let this opportunity slip through your fingers – take action today, and you could be the proud owner of a Crock-Pot Ponderosa. With its versatility, convenience, and stunning design, your cooking endeavors will never be the same again.
So don't wait any longer – head over to the registration page and enter the Crock-Pot Ponderosa Giveaway. Your taste buds and culinary skills will thank you, and who knows, you might become the envy of all your friends and family as you effortlessly whip up impressive meals with your new slow cooker. Good luck, and happy cooking!
Claim this great opportunity today.