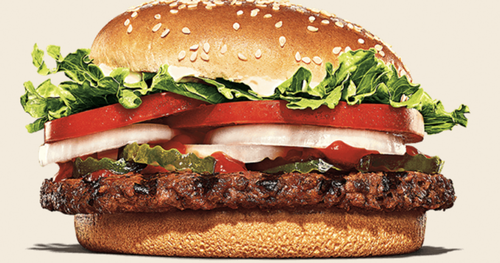 Title: Enjoy a Mouthwatering Free Whopper at Burger King!
Introduction:
Calling all food enthusiasts and burger lovers! We have an irresistible offer that you cannot afford to miss. Burger King, the renowned fast-food chain, is giving away FREE Whoppers exclusively for Royal Perk members. Yes, you heard it right – no purchase necessary! Get ready to treat your taste buds to the ultimate burger experience without spending a dime. Read on to find out how you can claim this delicious deal.
The Royal Perk Membership:
To avail of this extraordinary promotion, all you need to do is become a member of Burger King's Royal Perk program. Joining is simple and completely free! This exclusive membership offers you a plethora of benefits, such as access to exclusive deals, exciting rewards, and the latest updates on Burger King's mouthwatering offerings.
Claim Your Free Whopper:
Once you are a proud member of the Royal Perk program, it's time to savor the juicy goodness of a FREE Whopper. Simply enter the promo code: ROYALPERKS23 to unlock this delectable offer. Indulge in the iconic flame-grilled patty, topped with fresh lettuce, ripe tomatoes, crunchy pickles, creamy mayo, and zesty ketchup – all enveloped in a soft sesame seed bun.
Why Burger King's Whopper?
The Whopper is an iconic burger that has won the hearts and palates of millions worldwide. It represents Burger King's commitment to quality ingredients and signature flame-grilling technique. Every bite is a burst of flavor and satisfaction, making it an all-time favorite for burger aficionados. Don't miss this opportunity to savor this culinary masterpiece, crafted to perfection.
Join Our Telegram Group for More Exciting Offers:
Are you always on the lookout for hot deals, exciting sweepstakes, and irresistible freebies? Look no further! Join our exclusive Telegram Group, where we share a treasure trove of fantastic offers on a regular basis. Stay ahead of the crowd and never miss another opportunity to indulge in your favorite cravings for free! Discover a world of incredible deals and be the first to know about upcoming promotions.
Conclusion:
Burger King's Free Whopper promotion for Royal Perk members is a golden opportunity to enjoy a renowned burger for free. With no purchase required, you can experience the mouthwatering flavors of a Whopper without spending a single cent. by simply becoming a member of the Royal Perk program and entering the promo code: ROYALPERKS23 during redemption. Don't forget to join our Telegram Group to stay updated on more exciting offers like this one.
So, what are you waiting for? Treat yourself to the ultimate burger experience by claiming your Free Whopper today! Register for Royal Perks and embark on a flavorful journey that will leave you craving for more.
Claim this great opportunity today.