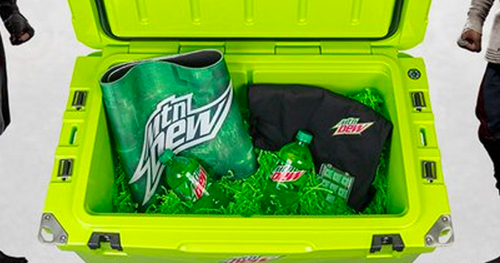 MTN DEW has always been at the forefront of the gaming world, fueling gamers around the globe with their refreshing energy drink. And now, they're taking things to the next level with an exciting promotion that is sure to get gamers everywhere buzzing with excitement.
Introducing the MTN DEW Gaming MTN DEW Plays Kit Twitter Sweepstakes! This incredible offer gives you the chance to win one of twenty grand prizes that are up for grabs. Each prize includes a sleek MTN DEW branded cooler to keep your drinks cool during those intense gaming sessions, a mouse pad that guarantees precision and control, and seven key caps to customize your gaming setup. The approximate retail value of each prize is a whopping $384.99!
Entering the sweepstakes is as easy as it gets. With just one time entry, you have the opportunity to win big. Simply head over to the MTN DEW Twitter page and follow the instructions on how to enter. But don't waste any time, because this sweepstakes won't last forever.
Imagine yourself with a MTN DEW branded cooler sitting right next to you, stocked with your favorite drinks, ready to quench your thirst between gaming sessions. The mouse pad ensures that your every move is precise and accurate, helping you reach the top of the leaderboard with ease. And once you lay your eyes on those seven key caps, you'll instantly know that your gaming setup is about to level up.
MTN DEW knows how important it is for gamers to have an environment that inspires and motivates them to perform at their best. That's why they've created this incredible MTN DEW Plays Kit, tailored specifically for gamers like you. Whether you're a casual gamer, a professional streamer, or anything in between, this kit is designed to enhance your gaming experience and take you to new heights.
But remember, this sweepstakes won't be around forever. So, don't miss out on this phenomenal opportunity to win a MTN DEW branded cooler, mouse pad, and seven key caps, all in one amazing prize package.
Make sure you're ready to dominate your gaming sessions in style. Head over to the MTN DEW Twitter page now and enter the MTN DEW Gaming MTN DEW Plays Kit Twitter Sweepstakes. You won't want to miss out on your chance to win this incredible prize!
Claim this great opportunity today.