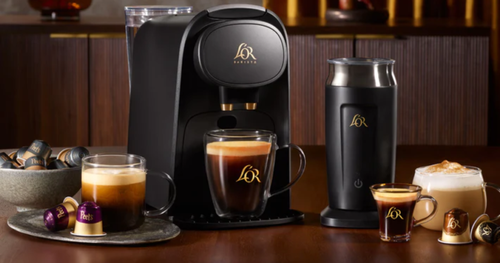 L'OR National Coffee Day Giveaway: Register for Your Chance to Win!
There's no denying the joy that a perfect cup of coffee brings to our mornings. The rich aroma, the smooth taste, and that energizing kick to start the day – it's pure bliss. And what better way to celebrate our love for coffee than on National Coffee Day?
To make this day even more special, we are thrilled to announce the L'OR National Coffee Day Giveaway! We've curated an incredible collection of prizes to make coffee lovers' dreams come true. Get ready to sip your morning brew in style, as we're giving away an exciting range of coffee-related goodies!
One lucky winner will take home the prestigious L'OR BARISTA coffee & espresso system, a state-of-the-art machine designed to elevate your coffee experience to new heights. Say goodbye to those basic coffee makers and say hello to the world of professional-grade brewing from the comfort of your own home. With the L'OR BARISTA, you can create barista-quality espresso and coffee drinks that rival your favorite coffee shop.
But that's not all – the winner will also receive a milk frother, for those velvety lattes or cappuccinos, and a year's supply of L'OR coffee & espresso to keep you caffeinated and satisfied. Imagine waking up every morning to the aroma of freshly brewed coffee, knowing that you have a whole year of delicious moments ahead.
As if that wasn't enough, we're adding some sweet delights to the mix. The lucky winner will also receive a Laduree Intemporal macarons gift box, so you can enjoy these delicate French treats alongside your favorite cup of coffee. And to complete the indulgent experience, we're including a set of Baccarat espresso glasses and L'OR coffee glassware, so you can savor your coffee in exquisite style.
But wait, there's more! We believe in spreading the love, so we're selecting one additional winner who will also receive a L'OR BARISTA coffee & espresso system. This means double the chances of winning and double the sheer joy of having this incredible machine in your kitchen.
Now that you know about these incredible prizes, how can you join the L'OR National Coffee Day Giveaway? It's simple – just register for your chance to win! Fill out the form on our website, and you'll automatically be entered into the giveaway. Keep those fingers crossed, as the winners will be chosen at random.
Don't miss out on this fantastic opportunity to elevate your coffee game. National Coffee Day is the perfect occasion to celebrate your love for coffee, and what better way than to enter this extraordinary giveaway?
Whether you're a coffee enthusiast, a passionate home barista, or simply someone who enjoys a good cup of joe, this giveaway is for you. Enter now for your chance to win the L'OR BARISTA coffee & espresso system, along with a range of other coffee treasures.
Don't wait another minute – register today and prepare to make every morning a coffee-lover's dream!
Claim this great opportunity today.