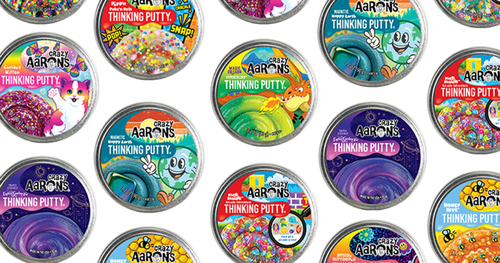 Title: Host a Memorable Crazy Aaron's Putty Party with Tryazon
Introduction:
Are you ready to take your party hosting skills to the next level? Look no further! We have an exciting opportunity for you to host a Crazy Aaron's Putty Party with Tryazon. If you love fun and innovative toys, this party is perfect for you. Read on to learn more about this amazing offer and how you can become one of the lucky 100 hosts!
Why Crazy Aaron's Putty?
Crazy Aaron's Putty is not your ordinary playdough; it's a sensory experience like no other. Made with high-quality materials and featuring vibrant colors, it offers endless hours of creative play for kids and adults alike. From the stretchy and moldable texture to the fascinating effects like glow-in-the-dark and magnetic properties, Crazy Aaron's Putty never fails to entertain.
Be the Ultimate Host:
As a chosen host, you will receive $240.00 worth of exclusive party items to create an extraordinary Crazy Aaron's Putty experience for your guests. Imagine the excitement on their faces as they dive into the world of Honey Hive Thinking Putty, exploring its golden hues and delightful scent. The Intergalactic Thinking Putty will transport them to a galaxy far, far away with its mesmerizing swirls and cosmic shades.
Entertainment for All Ages:
The Crazy Aaron's Game Cards add an extra layer of fun to your party. Packed with brain-teasing challenges and creative prompts, these cards will keep everyone engaged and entertained throughout the event. Whether you're hosting a child's birthday party or a casual get-together with friends, this unique combination of putty and games will ensure an unforgettable experience.
Spark Creativity:
Encourage your guests to unleash their creativity by hosting various putty-centric activities. From sculpture contests to putty-themed crafts, the possibilities are endless. Your guests will love creating unique shapes and designs using Crazy Aaron's Putty and competing for the most innovative creations.
Spread the Word:
Don't forget to capture the magic of your Crazy Aaron's Putty Party! Encourage your guests to take photos and share them on social media using the designated hashtags. This will not only help create lasting memories but also generate buzz around Crazy Aaron's Putty and Tryazon. Let the online world see just how amazing your party was and inspire others to host their own putty-filled events!
Conclusion:
Don't miss out on this fantastic opportunity to be one of the lucky 100 hosts selected to throw a Crazy Aaron's Putty Party with Tryazon. With $240.00 worth of party items and endless possibilities for creativity and fun, this event will be a blast for all. Get your friends, family members, and little ones excited by signing up today!
Registration is now open, so visit [link] to apply for this exclusive offer. Don't wait too long – the deadline for registration is approaching quickly. Secure your chance to become a Crazy Aaron's Putty Party host and create unforgettable memories with Tryazon. We can't wait to see the marvelous parties you'll host with Crazy Aaron's Putty!
Claim this great opportunity today.