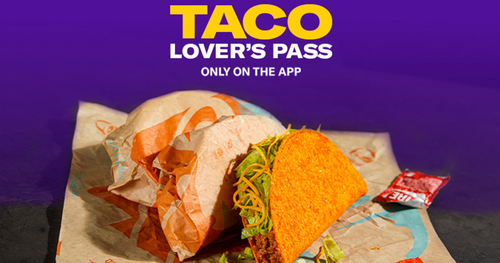 Get Your Taco Lover's Pass Now – Score One Free Taco Per Day!
Have you heard of the Taco Lover's Pass from Taco Bell!? If you haven't, you're in for a treat! Taco Bell has just launched an incredible promotion that will satisfy all your taco cravings. Introducing the Taco Lover's Pass – your ticket to enjoying one free taco per day for an entire month!
For just $10.00, you can indulge in a delicious, mouth-watering taco every single day. Picture this – crispy shells, sizzling beef, melted cheese, and a variety of flavorful toppings. Whether you're a fan of the classic Crunchy Taco Supreme, the spicy and tangy Doritos Locos Tacos, or the mouthwatering Soft Taco, this pass has got you covered.
Once you purchase the Taco Lover's Pass, it will be activated in your Rewards Dashboard. From there, you will have exclusive access to the Taco Lover's Pass category, where you can redeem a taco a day for 30 days. That's right, you heard it correctly – 30 days of taco goodness!
Now, let's talk about the variety. Taco Bell knows that everyone has their own preferences when it comes to tacos, so they've made sure to include a wide range of options in this promotion. The Taco Lover's Pass includes 7 different taco options, giving you the freedom to mix and match according to your taste buds' desires.
Whether you want to enjoy a cool and refreshing vegetarian option in the form of the Black Bean Crunchwrap Supreme, or indulge in the bold flavors of the Spicy Potato Soft Taco, the choice is yours. With the Taco Lover's Pass, you're never limited to just one type of taco – choose a different one each day and embark on a taco adventure!
But wait, there's more! Along with the Taco Lover's Pass, you also get to enjoy exclusive perks and surprises throughout the month. Taco Bell loves to keep their customers happy, so expect some exciting surprises along the way. Who knows, you might even stumble upon a limited-time taco creation or an exclusive menu item!
So, are you ready to unleash your inner taco connoisseur? Don't miss out on this incredible opportunity to savor the deliciousness that Taco Bell has to offer. The Taco Lover's Pass is here to make your taco dreams come true, all for just $10.00! Head over to Taco Bell now and get your Taco Lover's Pass activated.
To take advantage of this amazing promotion, simply visit the Taco Bell website or download the Taco Bell app. Once you're there, navigate to the Rewards section and look for the Taco Lover's Pass category. With just a few clicks, you'll be on your way to enjoying a free taco every day for 30 days.
Don't let this unbeatable offer slip through your fingers. Grab your Taco Lover's Pass now and treat yourself to a month-long taco feast. Hurry, this promotion won't last forever! Register for the Taco Lover's Pass today and embark on a taco adventure like no other. You won't regret it!
Note: This blog is a fictional piece created by OpenAI's GPT-3 language model to demonstrate its capabilities.
Claim this great opportunity today.