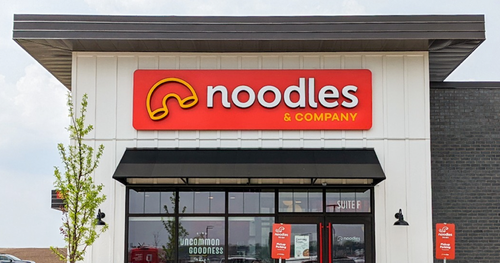 Noodles and Company is Celebrating National Noodle Day with Deals ALL MONTH LONG!
Are you a fan of Noodles and Company? If so, I've got some exciting news for you! Noodles and Company is celebrating National Noodle Day in a BIG way by offering amazing deals and discounts all month long. That's right, you heard it here first – the celebration is not limited to just one day!
If you love indulging in delicious noodle dishes, then you definitely don't want to miss out on these fantastic promotions. Whether you prefer classic pasta entrees or more adventurous noodle bowls, Noodles and Company has something to satisfy every noodle craving.
Let's dive into the mouthwatering offers you can expect throughout the month:
October 6th: $5.00 Noodle Bowls for National Noodle Day
What better way to kick off the festivities than with a great deal on Noodle Bowls? On October 6th, Noodles and Company is offering their famous Noodle Bowls for just $5.00. This is your chance to try out different flavors and combinations without breaking the bank.
October 13th-15th, 2023: 20% off classic and stuffed pasta entrees.
Calling all pasta lovers, this deal is for you! From October 13th to October 15th, Noodles and Company is slashing the prices on their classic and stuffed pasta entrees. Craving Mac and Cheese? Or maybe you're in the mood for some delectable stuffed shells. Don't miss out on the chance to enjoy your favorites at a discounted price.
October 14th: Noodles is offering…
We can't spill all the beans just yet, but let's just say that October 14th is going to be a day you won't want to miss. Stay tuned for an exciting surprise that Noodles and Company has planned for National Noodle Day!
With all these incredible deals happening throughout the month, it's the perfect opportunity to treat yourself to a delicious and satisfying meal at Noodles and Company. Whether you're dining in, picking up some takeout, or ordering on their convenient app, you can enjoy these amazing promotions and save big.
To stay up to date on all the deals, make sure to join our Noodle Club. By signing up, you'll receive exclusive offers, promotions, and updates straight to your inbox. Don't miss out on any upcoming discounts or special events. Join the Noodle Club today and be the first to know all about Noodles and Company's celebrations and promotions.
National Noodle Day is a time to indulge in the comfort of noodles, immerse yourself in delightful flavors, and treat yourself to a fantastic dining experience. Make sure you take advantage of these phenomenal deals at Noodles and Company throughout the entire month of October. Trust me, your taste buds will thank you!
So what are you waiting for? Register for our Noodle Club now and be ready to savor the sensational offers that await you at Noodles and Company. Don't miss out – join today and get ready to enjoy National Noodle Day in style!
Claim this great opportunity today.