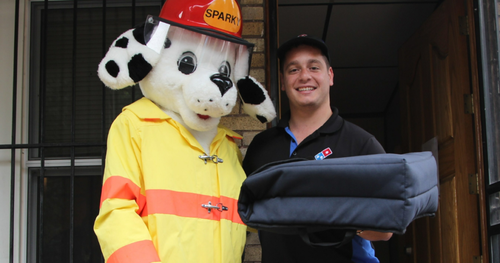 Title: Dominos Partners with the NFPA, you could get FREE Pizza!
Introduction:
Attention all pizza lovers and fire safety enthusiasts! In an exciting collaboration, Domino's Pizza has teamed up with the National Fire Protection Association (NFPA) to bring you a promotion that combines delicious pizza and enhanced fire safety measures. During Fire Prevention Week (Oct. 8-14), customers who order from participating Domino's stores throughout the U.S. may be in for a delightful surprise.
The Fire Safety Promotion:
Imagine ordering your favorite pizza and hearing the unmistakable roar of a fire engine approaching your neighborhood. That's right – if you participate in this promotion, you could have your pizza delivered to your doorstep accompanied by a team of real-life firefighters!
How It Works:
When the firefighters arrive with your pizza, they will perform a simple check to ensure the smoke alarms in your home are in proper working condition. If the smoke alarms are functioning perfectly, congratulations! You will receive your pizza completely free of charge as a token of appreciation for keeping your home safe. But if the firefighters find that your smoke alarms are not working, worry not! They will kindly replace the batteries or even install a new alarm to ensure the safety of your household.
Why Fire Safety Matters:
Fire safety is of paramount importance for every individual and family. Working smoke alarms greatly increase the chances of early detection, giving you valuable time to evacuate and call for help in the event of a fire emergency. By participating in this promotion, not only will you enjoy a tasty pizza but also ensure that your home is equipped with properly functioning smoke alarms – a small step that can have a significant impact on the safety of your loved ones.
Show Your Support:
As a responsible marketer, it is important to not only highlight the benefits of the promotion but also emphasize the significance of fire safety. By participating in this promotion, you can actively contribute to raising awareness about fire prevention and encourage others to inspect their smoke alarms regularly.
Register Now!
To take advantage of this incredible opportunity to enjoy free pizza and promote fire safety, all you need to do is visit our website or call your local participating Domino's store to place your order during Fire Prevention Week. Whether you are enjoying a night in with friends or treating your family to a tasty meal, this unique promotion offers a fun and meaningful way to support fire safety in our communities.
Conclusion:
Don't miss out on this amazing chance to partner with Dominos and the NFPA in promoting fire safety while enjoying your favorite pizza. Order from a participating Domino's store during Fire Prevention Week, and you might just find yourself greeted by a friendly team of firefighters armed with delicious pizza. Let's make our communities safer, one slice at a time – register today!
Claim this great opportunity today.