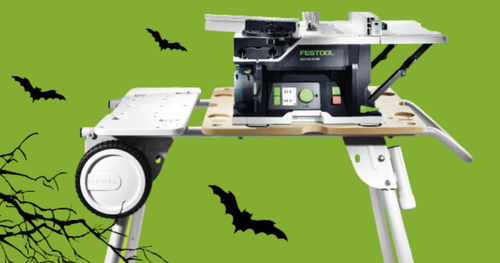 Introducing the Woodcraft Wicked Cool Festool Sweepstakes!
Attention, woodworking enthusiasts! If you're passionate about creating your own masterpieces with wood, then you won't want to miss out on this incredible opportunity. Woodcraft, the go-to destination for all things woodworking, is thrilled to announce the Woodcraft Wicked Cool Festool Sweepstakes!
What's the Woodcraft Wicked Cool Festool Sweepstakes, you ask? Let me tell you all about it. This is your chance to win the ultimate woodworking prize package, featuring the cutting-edge tools from Festool, a brand known for its exceptional quality and innovation. Imagine having these incredible tools at your fingertips, ready to take your woodworking projects to new heights.
So, what exactly is up for grabs in this extraordinary sweepstakes? One lucky winner will receive a Festool prize bundle worth over $2,000! This amazing package includes the following top-of-the-line tools:
1. Festool TS 55 REQ Circular Saw: This versatile saw delivers precise and clean cuts, making it an essential tool for any woodworking project.
2. Festool OF 1010 EQ Router: The ultimate precision router, perfect for creating intricate and detailed designs on your woodworking pieces.
3. Festool CT SYS HEPA Dust Extractor: Keep your workspace clean and dust-free with this compact and powerful dust extractor.
4. Festool RO 150 FEQ Random Orbital Sander: Achieve flawlessly smooth surfaces with this high-performance sander, designed for both coarse sanding and fine finishing.
5. Festool CXS Compact Drill Set: This lightweight and compact drill offers exceptional power and control, making it ideal for both drilling and driving applications.
Can you envision all the incredible projects you could tackle with these top-notch tools? From building furniture to crafting intricate wooden sculptures, the possibilities are endless. With Festool's precision and performance, your woodworking skills are sure to reach new heights.
Now, I bet you're wondering how you can enter and get a chance to win this phenomenal prize package. It's simple! Just head over to our website and fill out the registration form. Hurry, because this sweepstakes won't last forever. Make sure you take this opportunity to enhance your woodworking journey with Festool's premium tools.
Imagine the look on your fellow woodworkers' faces when they see the incredible projects you create with these Festool tools. The envy will be real, my friends! Don't miss out on this once-in-a-lifetime chance to elevate your woodworking game and win the Woodcraft Wicked Cool Festool Sweepstakes.
So, what are you waiting for? Register now for a chance to win this unbelievable Festool prize bundle. Whether you're a seasoned woodworker or just starting out, this is an opportunity you don't want to pass up. Get ready to take your woodworking skills to a whole new level with the Woodcraft Wicked Cool Festool Sweepstakes!
Remember, the deadline to enter is approaching fast, so don't delay. Head over to our website and register today. Good luck and happy woodworking!
Claim this great opportunity today.