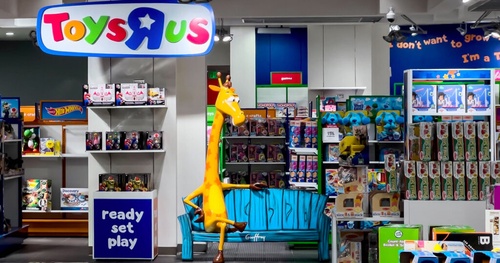 Come Celebrate Geoffrey's Birthday at Macy's – Free Gifts and MORE!
Attention, all Macy's and Geoffrey fans! Get ready for an extravaganza of epic proportions because Geoffrey's birthday celebration is back at Macy's and it's going to be bigger and better than ever before! Mark your calendars for an unforgettable event starting Friday, October 13th, 2023.
If you love scoring amazing freebies, then you won't want to miss out on the fun featured freebie of the day! Head down to your nearest Macy's store and be prepared to be wowed by the incredible gifts that await you. It's the perfect opportunity to treat yourself or stock up on gifts for your loved ones.
But that's not all! Macy's and Geoffrey have planned an array of exciting activities and events to make this celebration one for the books. Bring your little ones along as there will be cool activities designed especially for them. From face painting and balloon twisting to interactive games and storytelling, there will be no shortage of entertainment for the kids.
And speaking of gifts, Macy's has some giveaways lined up that will leave you in awe. Get ready to be surprised and delighted as you may just walk away with some incredible prizes. With these giveaways, every visit to Macy's becomes an exciting chance to win something special.
But wait, there's even more! Not only can you enjoy the freebies and giveaways, but Macy's and Geoffrey have gone the extra mile to ensure that this birthday celebration is an unforgettable experience for everyone. Immerse yourself in the festive atmosphere and be a part of the joy and laughter that fills the air. There will be so many memories waiting to be made.
Now, you may be wondering what you need to do to be a part of this exciting event. Registration is the key! By registering for Geoffrey's Birthday at Macy's, you'll have insider access to all the exclusive perks and surprises that await you. Don't miss out on this incredible opportunity to be a part of the festivities, so make sure to register today!
Head over to our website to sign up and be the first to receive updates about the event. Registration is quick and easy, so you'll be able to secure your spot in no time. Once you've registered, you'll be in the loop for all the latest news, special offers, and even more exciting events happening at Macy's throughout the year.
So, what are you waiting for? Geoffrey's birthday celebration at Macy's is just around the corner, and you don't want to miss out on all the free gifts, giveaways, and fun-filled activities that have been planned for you and your family. Register now and get ready to create memories that will last a lifetime!
Don't let this incredible opportunity pass you by. Join Macy's and Geoffrey in celebrating this special occasion and get ready for an experience like no other. Register today and get ready to celebrate Geoffrey's birthday in style!
Note: This blog post is a sample marketing material and does not contain any real content or dates. Please add the appropriate dates and registration link before using it for promotional purposes.
Claim this great opportunity today.