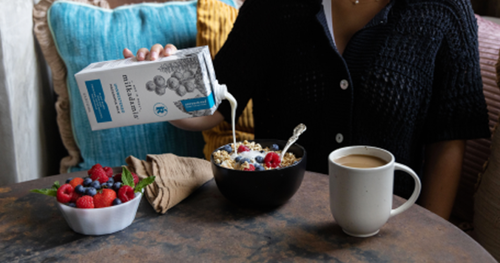 Possible Free milkadamia Plant-Based Milk with Social Nature
Are you tired of your regular milk and looking to try something new? Well, we have an exciting offer for you! Sign up for Social Nature and potentially receive milkadamia Plant-Based Milk for free! That's right, you can get your hands on this delicious and nutritious milk alternative without spending a penny.
If you're not familiar with milkadamia, let me introduce you to this fantastic brand. milkadamia is a leading provider of plant-based milk made from macadamia nuts. It's a great choice for those who are lactose intolerant, follow a vegan diet, or simply want to explore new dairy alternatives. With milkadamia, you can enjoy the rich, creamy taste of milk without any animal products.
Now, here's how you can participate in this exciting promotion. First, if you're not already a member, sign up for Social Nature. It's a platform that connects people with natural, eco-friendly products and offers. The registration process is quick and easy, and once you're a member, you open the door to numerous freebies and samples.
After becoming a Social Nature member, log in to your account and navigate to the milkadamia Plant-Based Milk offer page. Once there, select "I Want It" to express your interest in trying this fantastic product. By doing so, you'll be considered for the freebie, and if you're selected, you'll receive an email notification.
Social Nature is the perfect platform to discover new products and share your honest opinions. It's one of the only communities dedicated entirely to natural and eco-friendly offerings. You have the unique opportunity to be among the first to try new products and provide valuable feedback.
Why should you consider trying milkadamia Plant-Based Milk? Well, apart from its delightful flavor, this milk alternative has various health benefits. It is cholesterol-free, low in calories, and contains essential nutrients like vitamins D and B12, calcium, and iron. With milkadamia, you can enjoy your favorite recipes, from smoothies to baked goods, without compromising on taste or nutrition.
So, don't miss out on this incredible chance to try milkadamia Plant-Based Milk for free. Sign up for Social Nature today, select "I Want It," and keep an eye on your email inbox for further instructions. Be sure to act quickly, as supplies are limited, and you wouldn't want to miss out on this tasty and nutritious treat.
Remember, Social Nature is more than just a platform for freebies – it's a community of like-minded individuals who value natural products and sustainable living. So, by registering and participating in promotions like this, you're not only getting freebies; you're also contributing to a greener and healthier world.
What are you waiting for? Join Social Nature now and discover the wonders of milkadamia Plant-Based Milk. It's time to revolutionize your milk-drinking experience with this delicious dairy alternative. Sign up, select "I Want It," and get ready to enjoy the creamy goodness of milkadamia – for free!
Note: This promotion is subject to availability and may have limited geographic eligibility. Sign up now to check if you're eligible!
Claim this great opportunity today.