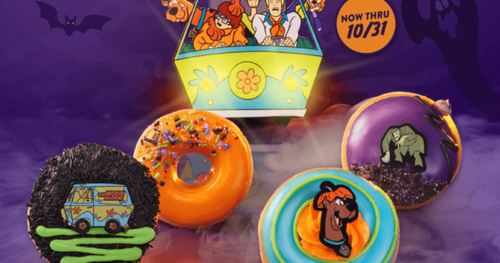 Title: Don't Miss Out on a Sweet Treat: Free Doughnut at Krispy Kreme on Halloween!
Introduction:
Who doesn't love a free treat? Especially when it's a delicious Krispy Kreme doughnut of your choice! This Halloween, Krispy Kreme is offering an incredible promotion that you won't want to miss. On October 31st only, simply show up at any participating Krispy Kreme shop in your spookiest or funniest Halloween costume, and you'll receive a FREE doughnut of your choice – no purchase necessary! Read on to find out how you can indulge in this tantalizing offer.
A Sweet Celebration on Halloween:
Halloween is a time for all things spooky and fun, and what better way to celebrate than with a mouthwatering doughnut? Krispy Kreme, the iconic doughnut chain loved by millions, has come up with a fantastic way to make this Halloween extra special. By simply wearing any Halloween costume, you'll be treated to a free doughnut of your choice. Whether you prefer their original glazed, chocolate-filled, or a creatively decorated Halloween-themed doughnut, the choice is all yours.
How to Get Your Free Doughnut:
Getting your hands on this delectable treat is as easy as pie – or should we say, doughnut! Here's what you need to do to claim your free doughnut:
1. Put on your favorite Halloween costume: Channel your inner superhero, vampire, or movie character and get into the festive spirit.
2. Find a participating Krispy Kreme location near you: With numerous locations across town, there's sure to be a Krispy Kreme shop conveniently located for you to visit.
3. Show up on October 31st: Don't forget to mark your calendar! On Halloween, head over to the Krispy Kreme shop wearing your fabulous costume.
4. Choose your favorite doughnut: Once you're at the shop, take a look at the mouthwatering selection of Krispy Kreme doughnuts and select the one that tickles your taste buds the most.
5. Enjoy your free doughnut: Present your amazing costume to the friendly staff, and they'll reward your efforts with a complimentary doughnut – your sweet reward for participating.
Join Our Telegram Group for More Exclusive Deals:
Are you always on the lookout for incredible online deals and savings? Do you never want to miss out on a great bargain again? Look no further! Join our exclusive Telegram Group – a community of like-minded individuals who love scoring discounts, giveaways, and freebies – and never miss another hot deal again.
In this group, you'll find a treasure trove of online deals at jaw-dropping discounts of 70-80-90% off! From fashion and electronics to home decor and travel, we've got you covered. Our dedicated team constantly scours the internet to bring you the best deals, sweepstakes, and freebies. Join us today to become a savvy shopper and take advantage of these fantastic offers.
Conclusion:
This Halloween, treat yourself to a delightful and free Krispy Kreme doughnut of your choice. Simply wear any Halloween costume and visit a participating Krispy Kreme shop on October 31st to claim your sweet reward – no purchase necessary. Transform into a superhero, a ghost, or your favorite movie character, and enjoy the scrumptious taste of a Krispy Kreme doughnut.
Never miss another incredible deal, sweepstakes, or freebie again! Join our Telegram Group, where we post tons of online deals at up to 70-80-90% off. We're here to help you save money while enjoying the best products and services.
Don't wait any longer – mark your calendar, gather your costume, and get ready to indulge in this mouthwatering Halloween treat at Krispy Kreme. Join our Telegram Group now and sign up for all the fantastic deals that await you!
Claim this great opportunity today.