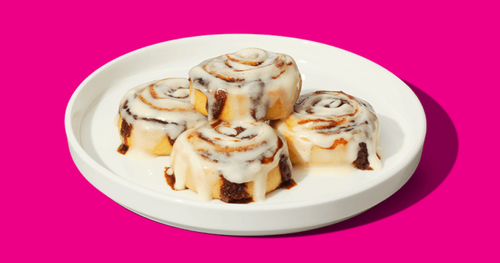 Cinnabon lovers, rejoice! We have some exciting news that will surely satisfy your cravings. Are you ready for a sweet treat that won't cost you a dime? Well, get ready to download the Cinnabon App because we have a mouthwatering offer for you!
Picture this: warm, gooey, bite-sized cinnamon roll goodness. That's right, we're talking about Cinnabon's famous Bonbites! And the best part? You can get a FREE 4-count of Bonbites when you sign up for Cinnabon's Rewards program and download the app. No purchase necessary!
Imagine sinking your teeth into these delectable little bites, packed with that iconic Cinnabon flavor. Each Bonbite is made with the same high-quality ingredients and made-from-scratch dough that you know and love. Whether you're a long-time Cinnabon fan or a newcomer to the kingdom of cinnamon, this offer is too good to pass up.
But let's talk about the Cinnabon App. This powerful little tool is your gateway to all things sweet and delicious. With the app, you can easily browse the menu, find your nearest Cinnabon location, and even place an order for pickup or delivery. No more waiting in line or missing out on your favorite treats – the Cinnabon App has got you covered.
If that's not enough, the app also gives you access to exclusive offers and promotions that you won't find anywhere else. From special discounts to limited-time menu items, being a part of the Cinnabon Rewards program means you'll always be in the loop and ready to indulge.
So, how do you get your hands on this FREE 4-count of Bonbites? It's simple! Just follow these three easy steps:
1. Download the Cinnabon App: Head over to your app store and search for "Cinnabon." Once you find the app, hit that download button and let the magic happen. It's free and takes just a few seconds!
2. Sign up for Cinnabon Rewards: Open the app and create your account. Enter your details, choose your preferred location, and voila – you're ready to start earning rewards and enjoying all the perks.
3. Claim your FREE 4-count of Bonbites: Once you've signed up, navigate to the rewards section of the app. Look for the offer that says "FREE 4-count of Bonbites" and click to claim it. Show the redeemed offer code to a friendly Cinnabon staff member at your local store, and they'll hand over your delicious freebie.
Don't miss out on this incredible opportunity to indulge in Cinnabon's irresistible Bonbites for FREE. With the Cinnabon App, you can have these pillowy soft treats at your fingertips, ready to be devoured whenever the craving strikes.
So, what are you waiting for? Download the Cinnabon App today, sign up for Cinnabon Rewards, and claim your FREE 4-count of Bonbites. It's the sweetest deal you'll find, and it's just a tap away. Go ahead, satisfy your cinnamon cravings, and treat yourself to a little slice of Cinnabon heaven.
Note: This promotion is available for a limited time only, so be sure to act fast and don't miss out. Download the app, claim your free Bonbites, and thank us later. Enjoy!
Claim this great opportunity today.