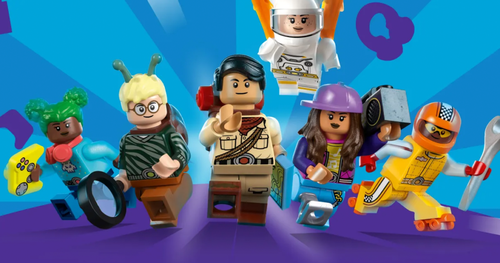 Introducing LEGO World Play Day!
Calling all LEGO enthusiasts, young and old! Get ready for a day filled with endless fun, creativity, and imagination because today, October 12th, is World Play Day at LEGO Stores! It's the perfect opportunity to spend some quality time building, creating, and exploring the amazing world of LEGO.
At your local LEGO Store, you'll be transported to a world where anything is possible. From tower building to robot building, the activities available are bound to ignite your inner builder. Challenge your friends and family to in-store challenges that will put your LEGO skills to the test. You'll have a blast as you embark on exciting play activities designed to spark your imagination and bring your wildest LEGO creations to life.
And that's not all – as a special treat, kids will receive a brick bag to help them build their LEGO masterpieces. But don't wait too long! The brick bags are available only while supplies last, so make sure to be one of the early birds to grab this fantastic giveaway.
LEGO World Play Day is not just a day to play with LEGO bricks; it's a celebration of creativity, innovation, and the power of imagination. It's an opportunity to unleash your inner child and rediscover the joy of building something extraordinary with your own two hands. Whether you're an experienced LEGO builder or just starting your journey, this event is sure to leave you inspired and eager to create.
So, mark your calendars and clear your schedules because today, October 12th, LEGO World Play Day is here! Gather your friends and family, and head down to your nearest LEGO Store to join in on the fun. Get ready to immerse yourself in a world filled with endless possibilities, remarkable creations, and pure joy. It's an event you certainly don't want to miss!
To stay up-to-date on the latest news, updates, and future LEGO events, make sure to click the link below. By registering, you'll be among the first to receive exciting announcements and exclusive offers. Don't miss out on any future LEGO adventures – sign up today!
LEGO World Play Day is a celebration of creativity, fun, and the boundless potential of the LEGO universe. Come join us on this special day and create memories that will last a lifetime. Remember, the only limit is your imagination!
Sign up now to be a part of LEGO World Play Day and stay in the loop for future events. Unleash your creativity and let the magic of LEGO come to life!
Register for LEGO World Play Day now [insert registration link] to secure your spot in this extraordinary event and embark on a journey of endless possibilities with LEGO. Don't miss out – register today!
Claim this great opportunity today.