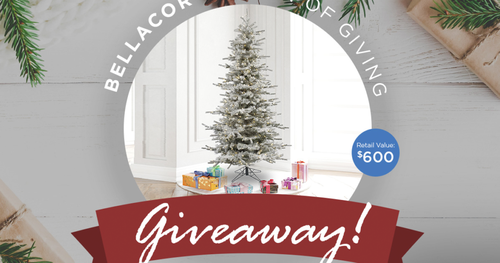 Bellacor's Season Of Giving – Vickerman Sierra Christmas Tree Sweepstakes
The holiday season is here, and what better way to spread the Christmas cheer than by winning a beautiful Christmas tree? Bellacor is thrilled to announce the Season of Giving – Vickerman Sierra Christmas Tree Sweepstakes, where one lucky winner will have the chance to bring home a stunning Christmas tree to complete their festive decorations.
Imagine a gorgeous Sierra Christmas tree adorned with twinkling lights and ornaments, standing tall and proud in your living room. Picture the joyful smiles on the faces of your family and friends as they gather around the tree, creating memories that will last a lifetime. This could be your reality if you enter Bellacor's Season of Giving Sweepstakes today!
The Vickerman Sierra Christmas tree is renowned for its impeccable quality and lifelike appearance. With lush green branches that resemble a real fir tree, you'll have no trouble creating a winter wonderland right in your own home. The tree's durable construction ensures that it will last for many holiday seasons to come, becoming a cherished part of your family's traditions.
Participating in the Season of Giving – Vickerman Sierra Christmas Tree Sweepstakes is easy. Simply register your details on our website, and you'll be automatically entered for a chance to win. And the best part? The sweepstakes is completely free to enter. It's our way of spreading holiday cheer and giving back to our valued customers.
But winning a Christmas tree is just the beginning. Bellacor is dedicated to making this holiday season unforgettable for all of our customers. That's why we offer an extensive collection of Christmas decorations, ranging from dazzling ornaments and festive garlands to beautiful wreaths and tree toppers. With Bellacor, you can transform your home into a magical winter wonderland that will delight both young and old.
We understand that this year has been challenging for everyone. The holiday season, however, reminds us of the importance of unity, love, and giving back. That's why Bellacor has partnered with Vickerman to bring joy and laughter to one lucky winner's home. Whether you're just starting your holiday traditions or continuing long-standing ones, this Christmas tree will be a priceless addition to your celebrations.
Don't miss out on this incredible opportunity to win a Vickerman Sierra Christmas tree. Register today for Bellacor's Season of Giving – Vickerman Sierra Christmas Tree Sweepstakes and make your holiday season even more magical. Enter now, and who knows, you might be the lucky winner who gets to bring home a beautiful Christmas tree that will become the centerpiece of joy and love in your home.
Spread the word to your family and friends, because there's no limit to the number of entries! The more people who know about this amazing sweepstakes, the merrier. So why wait? Register now for a chance to win and make this holiday season truly unforgettable!
Claim this great opportunity today.