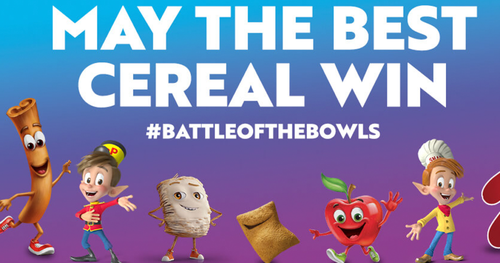 Title: The Delicious Kellogg's Battle of the Bowls Sweepstakes
Introduction:
Calling all breakfast enthusiasts and cereal connoisseurs! We have some exciting news that will make your mornings even more enjoyable. Kellogg's, the iconic brand known for its delicious breakfast cereals, has launched an incredible contest that will give you the chance to win amazing prizes. Get ready for the Kellogg's Battle of the Bowls Sweepstakes!
Kellogg's Battle of the Bowls Sweepstakes:
Are you tired of routine breakfasts? Do you crave something different, exciting, and full of flavor? If so, then the Kellogg's Battle of the Bowls Sweepstakes is the perfect event for you! This promotion celebrates the endless possibilities of mixing and matching Kellogg's cereal bowls, allowing you to create your own signature bowl and potentially win fantastic prizes.
How to Enter:
Participating in the Battle of the Bowls Sweepstakes is incredibly easy! All you have to do is follow these simple steps:
1. Purchase: Head to your nearest grocery store and stock up on your favorite Kellogg's cereals. With a wide range of options available, from classics like Froot Loops, Rice Krispies, and Corn Flakes, to newer favorites like Krave and Special K, you'll be spoilt for choice.
2. Mix & Match: Unleash your creativity and experiment by combining different Kellogg's cereals in unique and delicious ways. There are no limits to what you can create, so let your imagination run wild!
3. Snap & Share: Once you've crafted your mouth-watering bowl, take a scrumptious snap of your creation and share it on social media. Don't forget to use the official hashtag #BattleoftheBowls and tag @KelloggsBattles.
4. Register: To enter the sweepstakes, head over to our website and fill out the simple registration form. Make sure to provide your contact details accurately to ensure we can reach you if you're chosen as a winner.
Grand Prizes:
Now, let's talk about the exciting part – the prizes! Kellogg's Battle of the Bowls Sweepstakes offers some incredible rewards for your breakfast creativity. Among the grand prizes up for grabs for lucky participants are:
1. Dream Vacation Package: Imagine lazing on a beautiful beach, exploring vibrant cities, or indulging in thrilling adventures. The grand prize winner will receive a fabulous dream vacation package worth every bit of your imagination, courtesy of Kellogg's!
2. Kitchen Appliance Upgrade: Is your kitchen in need of a makeover? The second-place winner will receive a state-of-the-art kitchen appliance package that will make cooking and baking a breeze!
3. Year's Supply of Kellogg's Cereal: The third-place winner will receive a year's supply of Kellogg's cereal, ensuring you never run out of your favorite breakfast treat!
Wrap-up:
Don't miss out on this incredible opportunity to showcase your breakfast creativity and win amazing prizes in the Kellogg's Battle of the Bowls Sweepstakes. Grab your favorite Kellogg's cereals, mix and match to create the most delicious bowl, and share it with the world. Register today for your chance to win big!
Remember, breakfast just got a whole lot more exciting with Kellogg's Battle of the Bowls Sweepstakes. Get ready to make breakfast the highlight of your day and indulge in the sweet taste of victory. Register now and join the battle for the most scrumptious bowl!
Claim this great opportunity today.