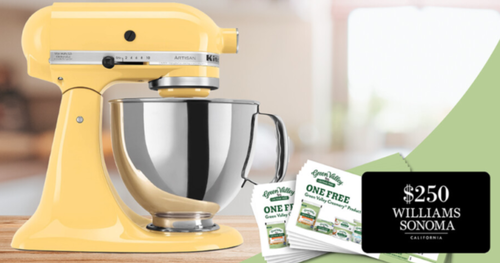 Green Valley Baking Bliss Giveaway
Are you a baking enthusiast looking to take your skills to the next level? Then look no further! Green Valley is excited to announce the Baking Bliss Giveaway, where you could be the lucky winner of a baking-themed prize pack that will leave you feeling like a professional pastry chef.
There's no denying that the world of baking has experienced a surge in popularity recently. From decadent cakes to mouthwatering pastries, people all around are discovering the joy of creating delicious sweet treats in their own kitchen. And what better way to enhance your baking skills than with a fabulous assortment of baking essentials?
Green Valley, the trusted brand known for its high-quality baking products, is giving you the opportunity to win a superb prize pack that will make your baking dreams come true. Imagine having all the tools and ingredients you need to create delicate macarons, fluffy cupcakes, and stunning celebration cakes. With Green Valley's Baking Bliss Giveaway, you can have it all.
So, what can you expect to find in this incredible prize pack? From premium baking tools like silicone baking mats and precision measuring spoons to top-of-the-line quality ingredients such as gourmet vanilla extract and organic flour, Green Valley has thought of everything to help you elevate your baking game. No matter what masterpiece you want to create, this prize pack has got you covered.
But the excitement doesn't end there! Green Valley is also throwing in a collection of exclusive recipe cards that will ignite your creativity and inspire you to try new and exciting flavor combinations. From classic chocolate chip cookies to innovative pastry creations, these recipes are sure to make your taste buds tingle.
The Green Valley Baking Bliss Giveaway is open to all baking enthusiasts, whether you're a seasoned pro or just starting your baking journey. By entering this giveaway, you not only stand a chance to win a fantastic prize pack, but you also become part of the Green Valley baking community. Join thousands of passionate bakers who love to share tips, tricks, and their baking triumphs.
Why wait? Don't miss out on this incredible opportunity to take your baking skills to new heights. Whether you've been dreaming of mastering the perfect soufflé or craving the satisfaction of biting into a freshly baked loaf of bread, the Green Valley Baking Bliss Giveaway is your ticket to making those dreams come true.
To enter, simply click the registration link below and fill out the form. Remember, the more you bake, the more chances you have to win! Share your creations on social media using the hashtag #GreenValleyBakingBlissGiveaway to inspire others and connect with fellow baking enthusiasts.
Get ready to unleash your inner pastry chef and let Green Valley be your trusted partner in the world of baking. Don't miss out on this incredible opportunity – register today!
*Registration link*
Claim this great opportunity today.