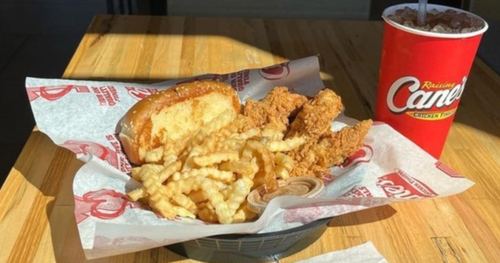 BOGO Box Combo Offer at Raising Cane's!
Are you a fan of Raising Cane's? If you are, and you're a Caniac Club member, check your accounts! It looks like they have an offer for some readers for a BOGO Box Combo offer! If you are not a Caniac Club member, be sure to join! You'll score exclusive offers like this!
Raising Cane's is a fast-food chain that is known for its delicious chicken finger meals. The company takes pride in serving the highest quality chicken fingers with their secret Cane's sauce, Texas toast, coleslaw, and crinkle-cut fries. With a simple and focused menu, they have managed to create a cult-like following of loyal customers who just can't get enough of their mouth-watering chicken.
If you're already a member of the Caniac Club, you probably know that they frequently offer amazing deals exclusively for their members. And right now, they have a fantastic BOGO Box Combo offer waiting for you! If you're not a member yet, now is the perfect time to join and enjoy this exciting deal!
By becoming a member of the Caniac Club, you'll gain access to a range of perks and benefits. Not only will you receive insider news and updates about Raising Cane's, but you'll also be the first to know about new menu items and promotions. And let's not forget about the freebies and special offers! As a Caniac Club member, you'll have the opportunity to enjoy exclusive deals like the current BOGO Box Combo offer. Who doesn't love a good buy one, get one free deal?
Joining the Caniac Club is quick and easy. Simply visit their website or download the Raising Cane's mobile app, and sign up for free. Once you've become a member, you'll start receiving all the exciting offers directly in your inbox or app notifications.
Now, let's talk about the BOGO Box Combo offer. This amazing deal allows you to enjoy two Box Combos for the price of one! Imagine sinking your teeth into those succulent chicken fingers, paired with their delectable dipping sauce, and indulging in the perfect harmony of flavors. And let's not forget about the sides! The Texas toast and coleslaw complement the meal perfectly, while the crinkle-cut fries add the perfect touch of crispiness.
Whether you're planning a lunch date with a friend, a quick dinner for the family, or just a solo treat, the BOGO Box Combo offer is the perfect opportunity to satisfy your craving for Raising Cane's. And with the Caniac Club membership, you'll be the first to enjoy these exclusive offers.
So, what are you waiting for? Don't miss out on this incredible opportunity to indulge in the mouth-watering flavors of Raising Cane's while also saving some money. Join the Caniac Club today and unlock access to the BOGO Box Combo offer and many more amazing deals.
Joining is free, easy, and takes just a few minutes. Once you're a member, get ready to enjoy the perks of being a Caniac, and experience the joy that comes with savoring the unbeatable taste of Raising Cane's chicken fingers.
Head over to Raising Cane's website or download the app now and register for the Caniac Club. Your taste buds will thank you later!
Claim this great opportunity today.