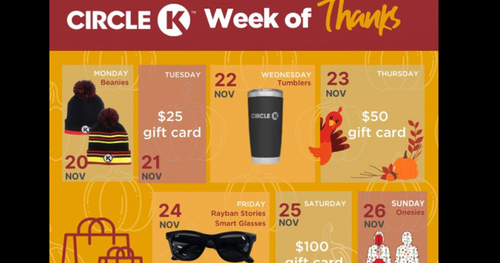 Win Gifts with Circle K's Week of Thanks Promotion!
Who doesn't love free gifts and a chance to win awesome prizes? Well, get ready because Circle K is hosting their "Week of Thanks" promotion from November 20th-26th! It's the perfect opportunity for you to treat yourself during this festive season.
To participate, all you need to do is text the day of the week each day to 31310. By doing so, you'll automatically enter the contest and have a chance at winning some amazing prizes! Circle K knows how to keep the excitement going, and this promotion is a testament to that.
Now, let's talk about the prizes. Oh yes, they are definitely worth entering for! Circle K is known for their attention to detail when it comes to gift selection. From gift cards to popular retailers, stylish accessories, and even the latest gadgets, you can expect a wide range of goodies up for grabs.
Imagine getting your hands on a shopping spree to your favorite store, or maybe scoring the latest tech gadget that you've been eyeing for months. With Circle K's Week of Thanks promotion, these dreams can become a reality!
But that's not all. Circle K understands that giveaways are not just about the "big" prizes. They also value their customers and always have something special for everyone. So even if you don't win the grand prize, you could still find yourself walking away with a surprise treat or a valuable discount coupon.
It's important to note that this promotion isn't just about the prizes; it's about expressing gratitude and giving back to their loyal customers. Circle K appreciates the support they receive throughout the year, and the "Week of Thanks" is their way of saying thank you for choosing them as your go-to convenience store.
So, mark your calendars and get ready for November 20th-26th. Don't miss out on this incredible opportunity to win amazing gifts, just in time for the holiday season. The excitement is building up, and you definitely want to be a part of it.
To register for the "Week of Thanks" promotion, simply text the day of the week each day to 31310. That's it! You're on your way to potentially winning some fantastic prizes and experiencing the joy of being appreciated.
What are you waiting for? Take a few seconds out of your day to enter the contest. Remember, you have nothing to lose and a whole lot to gain. Circle K's Week of Thanks promotion is the perfect way to bring some extra cheer into your life.
Hurry, November 20th-26th will be here before you know it. Get your phones ready and start texting those days of the week to 31310. Good luck, and thank you for being a valued Circle K customer!
Claim this great opportunity today.