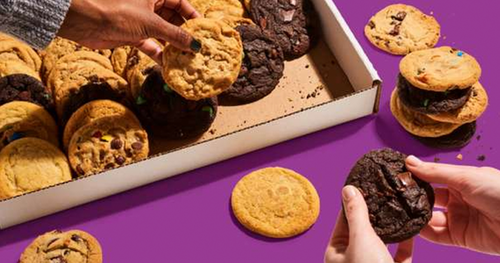 Close to FREE Cookies from Insomnia Cookies
Looking for a sweet treat to satisfy your cravings today? Well, look no further because if you've got an Insomnia Cookies nearby, you're in luck! Right now, for a limited time only, you can score a delicious deal that will leave your taste buds dancing and your wallet smiling.
Insomnia Cookies is known for their mouth-watering cookies that are freshly baked and delivered warm to your doorstep. And now, they are making it even sweeter by offering a special promotion that you won't be able to resist.
Imagine sinking your teeth into a soft, chewy cookie that melts in your mouth with every bite. That's what you can expect from Insomnia Cookies. And with this incredible deal, it's almost like getting your cookies for free!
With the exclusive code TEXTME, you can enjoy a fantastic $5.00 off any order at Insomnia Cookies. Yes, you read that right – $5.00 off! Just think about all the possibilities! With this discount, you can treat yourself to not just one, but maybe even two free cookies! Or, you can mix and match and try their other delectable treats with $5.00 off the total. The choice is yours!
But hurry, because this deal won't last forever. Take advantage of this amazing offer and satisfy your sweet tooth today. Indulge in the heavenly taste of Insomnia Cookies without breaking the bank. Whether you prefer classic chocolate chip cookies, or you want to explore their exciting range of flavors like double chocolate chunk or oatmeal raisin, Insomnia Cookies has something for everyone.
Not only are Insomnia Cookies absolutely delicious, but they also provide exceptional convenience. With delivery options available, you can have your cookies brought right to your doorstep. Perfect for those days when you're in need of a little pick-me-up or when you want to surprise a loved one with a sweet treat. Insomnia Cookies has got you covered.
So, what are you waiting for? Don't miss out on this incredible opportunity to enjoy close to FREE cookies from Insomnia Cookies. Treat yourself to a taste of heaven and experience the joy of indulging in freshly baked, warm cookies that are sure to brighten your day.
To take advantage of this amazing offer, simply visit Insomnia Cookies online or through their app and enter the code TEXTME at checkout. It's that easy! But remember, this deal won't last forever, so make sure to grab your cookies while you can.
Register today and experience the pure delight that comes with sinking your teeth into a warm, delicious cookie from Insomnia Cookies. Don't let this opportunity slip away – register now and treat yourself to close to FREE cookies!
Note: This blog contains a promotional offer that was available at the time of writing. Please check the Insomnia Cookies website or app for the latest promotions and availability in your area.
Claim this great opportunity today.