Enter to Win a bundle of sewing materials and tools worth $2,500 from Shannon Fabrics for National Sewing Month.
US Only, 18+.
One random winner will be chosen on October 2 and announced on October 5 on the Shannon Fabrics and our industry partners' social media accounts.
Prize: The National Sewing Month prize pack includes:
* New GO! Me Fabric Cutter — AccuQuilt
* Sampler package of a few different large design sets — Anita Goodesign
* One full set of Aurifil Color Builders (12 boxes, 3 LG Spools of 50wt each, 1422yds/spool) — Aurifil
* Baby Lock Genuine Collection Sewing Kit — Baby Lock
* Clip 'n Glide Bodkin, Point 2 Point Turner, Wonder Clips (10pc), Wonder Clip Wrist Cushion, Curved Tailor's Awl, Pen Style Chaco Liners (Pink & Silver), Bordeaux Ultimate Scissors (6 ¾"), Flower Head Pins (Fine) 20pc — Clover
* D40 Table Lamp — Daylight Company
* One case of Royal Silk 24 oz bags, a 5lb of Poly-Fil, Poly-Fil Premier Pillow forms, Poly Pellets — Fairfield World
* 728 – Heavy Duty Razor Edge Fabric Shears (8in), 732A – Surgical Style Seam Ripper, Includes 3 Replacement Blades (5.5in), 739 – Pro Cut Micro Serrated, Fabric Shear Comfort Handle (8in), 1101 – Colored Embroidery Kit — Famore Cutlery
* Slowpoke the Sloth, Plattie Platypus, Lloyd Llama & Alice Alpaca, Puppy Dog Pete, Stu the Sea Turtle, Monty Manatee, Hannah Hedgehog, Gertrude Guinea Pig — Funky Friends Factory
* Sew Comfortable Ergonomic Seat Cushion — Janome
* Kai Seam Remover #KSR, Kai 11" Professional Serrated #7280SE, Kai 7100 4" Professional Scissor — Kai Scissors
* KD580 The Snuggle is Real: Petite Appliques, KDKB218 Baby Body Suits Koala Grey 6-9 mos.,  KDKB221 Baby Body Suits, Blushing Peach 6-9 mos., KD725 Love Notes Sewing Version,  KDKB1210 Love Notes Quilt Embellishment Kit, Kimberbear Machine Embroidery Instructions,  Kimberbear Sewing instructions — Kimberbell
* 505 (2 sizes), Grippy, Fabric Booster 808, 606 — Odif
* 18 x 24 cutting mat, 9" square ruler, SAC-1, ESK-1, RTY-2/NS cutter, RTY-2C/NBL Splash 45 mm cutter, Rotary case, Touch knives — Olfa
* Oliso® Pro™ TG1600 Smart Iron — Oliso
* Queen-size battings in Poly Request, Dream Wool, Dream Orient and Dream 80/20 — Quilters Dream Batting
* RNK Cork in Natural, Cosplay Purple iron-on glitter, Cosplay Green iron-on glitter, Cosplay Super Structure Foam, Cosplay Silver iron-on foil, RNK Perfect Grip tape in purple and white — RNK
* Quilters Select Perfect Cotton batting, Quilters Select Multi color bobbin ring, Quilters Select 60 weight tube of 5 thread, Quilters Select 80 weight tube of 5 threads — Quilters Select
* SCHMETZ Chrome Stretch 90/14 and Chrome Universal 70/10 – 10 cards each, ABC Pocket Guide — Schmetz Needles
* 3 Cuddle® Kits (minky fabric quilt kits) — Shannon Fabrics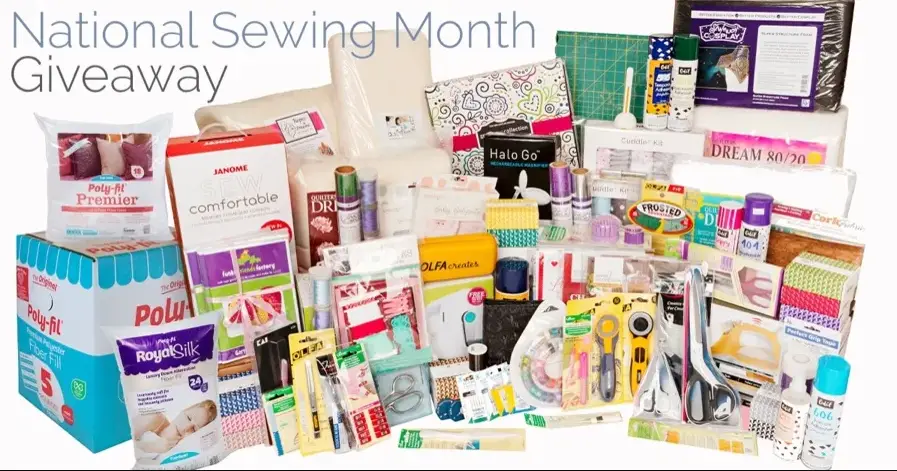 Make sure you visit our NEW Freebies From This Week – List! We also have an ongoing list for those interested in New and Current Giveaways and Sweepstakes! To get all new daily freebies & giveaways don't forget to sign-up for our newsletter! We also have active social media accounts so check out our Facebook group, our Twitter feed or maybe your prefer Instagram.
Thank you from the Freebies Frenzy team!