Amazon Deal Of The Day!
Today's Deal: Frigidaire Retro Mini Fridge! Grab this Amazon Deal Of The Day while you still can! Save $10 on the extremely popular Frigidaire Retro Mini Fridge for only $49 when this Frigidaire Retro Mini Fridge is regularly $59.99.
Frigidaire Retro Mini Portable Compact Personal Fridge:
These extremely cooling looking retro mini fridges have been trending and popping up everywhere! These have especially taken off in the beauty industry. Many "beauty gurus" have these adorable little fridges set up to store their many skincare products. Not only do these serve an amazing purpose, they also offer a cute flare of style to any room! These eye-catching retro mini fridges included in our Amazon Deal of The Day aren't only for beauty product lovers…they can also store up to TWELVE cans! This adds another huge functional bonus! These would be perfect for any bedroom, dorm room, etc. Adding to that, this Frigidaire Retro Mini Portable Compact Personal Fridge comes with a normal plug outlet option AND a 12v car charger! Can anyone say road trip!? This is perfect to keep items cold on the go! Overall, this retro mini fridge will be such a hot Christmas gift item this year so grab it while you can save $10!
HEY! In addition to our Amazon Deal of The Day, why not check out the amazing benefits of being an Amazon Prime member especially with all the online holiday shopping you're probably planning to do this holiday season! Click here to check out the benefits of becoming an Amazon Prime member!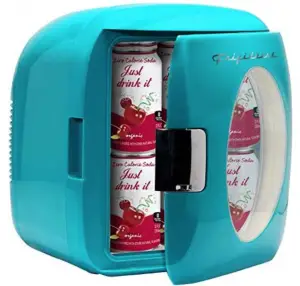 Make sure you visit our NEW Freebies From This Week – List! We also have an ongoing list for those interested in New and Current Giveaways and Sweepstakes! To get all new daily freebies & giveaways don't forget to sign-up for our newsletter! We also have active social media accounts so check out our Facebook group, our Twitter feed or maybe your prefer Instagram.
Thank you from the Freebies Frenzy team! We work hard daily to find & bring you the best new giveaways! We want to help others be able to find the best giveaways to enter and win, win, win!