Apply to Get a FREE Organic Terrarium Kid's Grow Kit by Back to Roots from Social Nature.
About the Terrarium Grow Kit:
Back to the Roots' Organic Terrarium Kids Grow Kit includes everything your kid needs to build their own magical, living world! With the glow-in-the-dark stickers, it turns into a fun night time activity too. Organic microgreen seeds grow in just 7 days creating a feeling of instant gardening gratification for kids!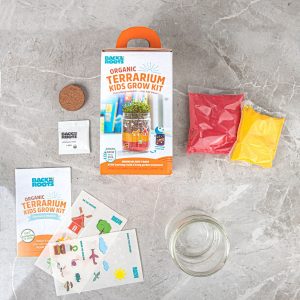 What is Included:
Included in the Terrarium Grow kit, are all the tools your child needs to unleash his or her creativity including: 
organic potting mix
organic seeds
colorful rocks
decoration
spray bottle
stickers
STEM curriculum
and a grow guide!
About Social Nature:
Social Nature is where #TryNatural is the Norm … not the exception! When you join for free you will be able to test and keep new natural products.
Apply to try and review better-for-you products. If chosen, you'll get to try products for free in exchange for your review and a share on social media.