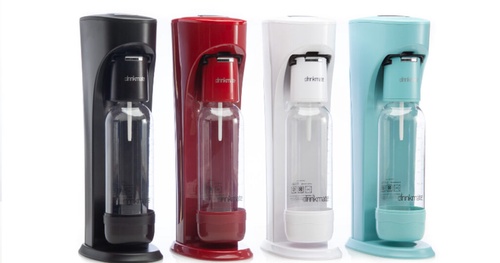 Summer is just around the corner, and what better way to enjoy the season than to host a backyard party? A refreshing drink can certainly make the occasion more enjoyable. But what if you could create your own fizzy and flavorful drinks right at home? That's where the Drinkmate comes in!
The Drinkmate is a unique beverage carbonation system that allows you to carbonate any drink you'd like. Whether it's water, juice, cocktails, or even wine, the Drinkmate adds a sparkling touch to any beverage, giving you a refreshing and delicious drink in seconds.
Now, imagine hosting a sparkling summer party, where you can impress your guests with your homemade sparkling drinks. Thanks to Tryazon, you can make this dream a reality by applying to be one of the lucky 50 people to host a Drinkmate – Sparkle Your Summer Party with Tryazon.
If you're selected as a host, you'll receive a $145+ party pack that includes a Drinkmate Special Bundle, which comes with everything you need to make your sparkling drink creations: a Drinkmate machine, a bottle, a CO2 cartridge, and a fizz infuser. Plus, you'll receive drink recipes, samples of flavor drops, and other fun goodies to make your party the talk of the town.
Hosting a Drinkmate party is easy and fun. Simply prepare your drink recipes, add your preferred flavors and carbonation level, and serve to your guests. Your friends and family will be amazed by the variety and quality of your homemade drinks.
So, whether you're planning a backyard barbecue, pool party, or just a casual get-together, the Drinkmate – Sparkle Your Summer Party with Tryazon, is the perfect way to impress your guests and enjoy the summer season. Don't miss out on this amazing opportunity to host a unique and unforgettable party. Apply now to get your chance to become a Drinkmate party host!
Claim this great opportunity today.