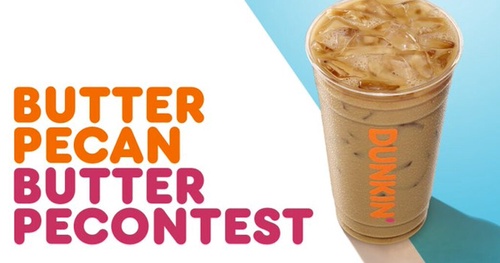 Attention coffee lovers! Do you want to win FREE Dunkin' Coffee for a Year? If so, you'll want to enter the Dunkin' Butter Pecan Butter Pecontest!
This amazing promotion is giving away five prizes of Free Dunkin' Coffee for a Year fulfilled in $598 of Dunkin' gift cards. That means you can treat yourself to your favorite coffee or breakfast sandwich every day for a year! Imagine the joy of starting your day with the perfect cup of coffee or surprising your friends by treating them to a delicious Dunkin' beverage.
The Dunkin' Butter Pecan Butter Pecontest is easy to enter – with just one-time entry, you could be a winner! All you need to do is register before April 28th, 2023. But hurry, time is running out! Don't miss out on this incredible opportunity to win free coffee for an entire year!
If you're a loyal fan of Dunkin' and love their delicious butter pecan flavor, you don't want to miss this contest. With just a few clicks, you could become one of five lucky people to receive free coffee for a year. So, whether you prefer hot or iced coffee, lattes or cappuccinos, or even a delicious breakfast sandwich, Dunkin' has you covered!
Don't let this opportunity pass you by – enter the Dunkin' Butter Pecan Butter Pecontest today and start dreaming about all the delicious coffee drinks you can enjoy for free. Register now and you could be sipping on your favorite beverage every morning for the next 365 days. Good luck!
Claim this great opportunity today.