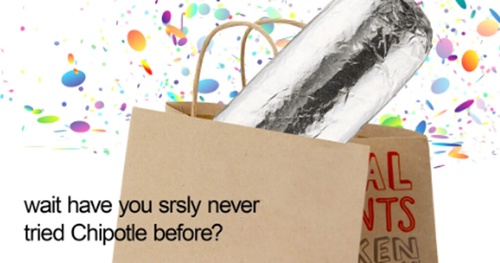 As a marketing professional, I know that one of the best ways to introduce new people to a brand is through word of mouth. That's why I'm excited to tell you about the Chipotle Party Promotion!
If you're one of the few people who haven't tried Chipotle yet, here's your chance to finally see what all the fuss is about. And if you're already a fan, this promotion gives you the chance to help your friends discover the deliciousness of Chipotle.
Here's how it works: head to the link below to get all the information about the promotion. Basically, all you need to do is invite your friends who haven't tried Chipotle (yet!) through Partiful, and you could score some free BOGO deals. That's right, just by introducing your friends to Chipotle, you can get some great discounts for yourself.
But wait, there's more! This promotion isn't just about scoring freebies. It's about having a party. Get together with your friends and enjoy some great food, all while introducing them to the wonderful world of Chipotle. It's a win-win situation.
Chipotle is all about fresh, high-quality ingredients and making food that's delicious and satisfying. And once you try it, you'll understand why so many people love it. So don't be shy – invite your friends to the party and let them discover the magic of Chipotle.
Whether you're a die-hard Chipotle fan or you've never tried it before, this promotion is not to be missed. So head to the link below for all the details, and start planning your party today. With BOGO deals on the line, there's no reason not to join in on the fun.
Don't miss out on the Chipotle Party Promotion – register now to see what all the fuss is about!
Claim this great opportunity today.