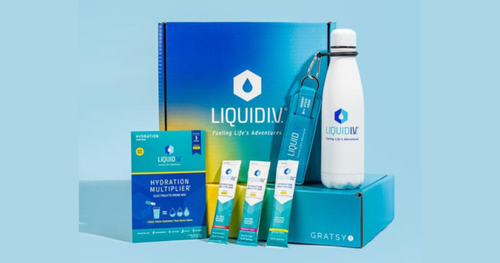 Are you looking for a chance to win the ultimate hydration prize pack? Look no further than the Gratsy x LIVHydrated Sweepstakes! This amazing giveaway is offering THIRTY (30) lucky winners the chance to score a Liquid I.V. LIV Hydrated prize pack, while TEN (10) even luckier winners will snag a Liquid I.V. subscription for a year!
We can all agree that staying hydrated is an essential part of a healthy lifestyle, which is why we're so excited about this incredible promotion. Liquid I.V. is the ultimate solution for hydration, providing an easy and convenient way to keep your body feeling great. And now, with the Gratsy x LIVHydrated Sweepstakes, you can enjoy all the benefits of this top-of-the-line hydration product for free!
Don't miss your chance to enter this amazing giveaway. It's easy! Simply click on the links below to enter using either the free entry method or the purchase entry method. Don't forget, both methods offer an entry, so you can double your chances of winning by entering twice!
Whether you're an athlete, traveler, or just someone who wants to feel their best, Liquid I.V. has got you covered. Their unique formula of essential vitamins, minerals, and electrolytes means you can stay hydrated and feeling energized, no matter what your day throws at you.
So why wait? Enter the Gratsy x LIVHydrated Sweepstakes today and you could be one of the lucky winners to receive a Liquid I.V. LIV Hydrated prize pack or even a year-long subscription to this amazing product. With thirty prizes up for grabs, there's never been a better time to register.
Don't let this amazing opportunity pass you by. Enter now and experience the incredible benefits of Liquid I.V. for yourself!
Claim this great opportunity today.