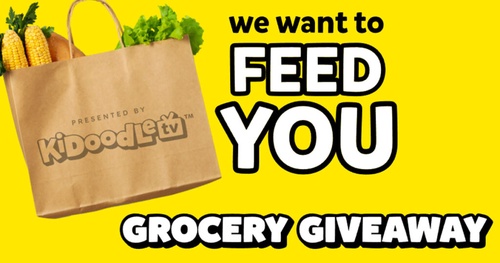 As a parent, finding quality kid-friendly programming can be a daunting task. That's where Kidoodle TV comes in. With over 20,000 episodes of shows such as Paw Patrol, Bubble Guppies, and Barbie Dreamhouse Adventures, Kidoodle TV is a trusted source for parents looking to entertain and educate their children.
But what's better than quality programming for your littles ones? Free groceries! That's right, Kidoodle TV is hosting a Grocery Giveaway for its viewers. Imagine not having to worry about the weekly grocery bill because Kidoodle TV has got you covered.
Entering the giveaway is simple. All you have to do is register on the Kidoodle TV website with your name and email address. That's it! And if you're already a Kidoodle TV subscriber, you automatically have one entry into the giveaway.
But wait, there's more! Refer your friends and family to Kidoodle TV, and you'll receive an additional entry into the Grocery Giveaway. Spread the word on social media, in your Mom's group, or at the playground. The more people you refer, the better your chances of winning.
The Grocery Giveaway is open to residents of Canada and the United States who are 18 years of age or older. The winner will be selected at random and notified via email. And don't worry, Kidoodle TV values your privacy and will not share your personal information with anyone.
So what are you waiting for? Register now for your chance to win the Kidoodle TV Grocery Giveaway. Not only will you have access to quality children's programming, but you could also win free groceries. It's a win-win situation!
Claim this great opportunity today.