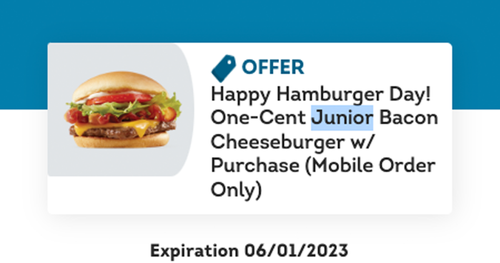 Are you a fan of delicious, mouth-watering fast food burgers? Then prepare to have your taste buds tantalized with this amazing deal from Wendy's! For a limited time only, you can score a Junior Bacon Cheeseburger for just one penny when you make any purchase at Wendy's. That's right – just a solitary cent will give you the chance to try out this delectable burger that's sure to leave you feeling full and satisfied!
But this offer won't last forever – it's only available until June 1st, 2023! So don't wait too long to take advantage of this amazing deal. You won't want to miss out on the chance to enjoy the mouth-watering flavor of a Wendy's Junior Bacon Cheeseburger, paired perfectly with your favorite side dish.
To take advantage of this offer, all you need to do is download the Wendy's app, or visit the rewards section on the Wendy's website. From there, you'll be able to access the offer and redeem it on your next purchase. And once you've tasted that juicy, savory burger, you'll be sure to come back to Wendy's again and again for more delicious fast food options!
So what are you waiting for? Head on over to your nearest Wendy's location today to take advantage of this incredible offer. With just a one-cent purchase, you'll be able to enjoy the incredible flavor and unbeatable value of a Junior Bacon Cheeseburger from Wendy's. Don't miss out – register now and take advantage of this amazing promotion while it lasts!
Claim this great opportunity today.