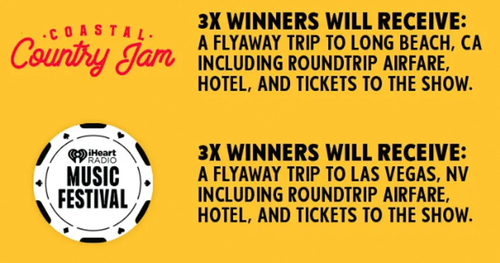 Are you ready for an unforgettable music experience? Look no further than the Yellow Tail + iHeartMedia – Happiness Live Sweepstakes! This is your chance to win a VIP trip to a live iHeartRadio concert event of your choosing, along with $2,000 to cover your travel expenses and accommodations!
Yellow Tail, the beloved Australian wine brand, has teamed up with iHeartMedia to bring you a unique opportunity to enjoy some amazing music, in a stunning location, while sipping on a glass of their delicious wine. And it gets even better: not only will you get to attend the concert of your choice, but you'll also have the chance to meet and greet the artists performing!
But how do you enter this amazing sweepstakes? It's easy! Simply visit the official sweepstakes page, fill out the registration form, and submit it. That's it! You may enter once per day, so why not increase your chances and submit your entry every day?
Now, why should you participate in this sweepstakes? Besides the obvious perks mentioned above, Yellow Tail is known for their commitment to spreading happiness and positivity. This sweepstakes is a perfect reflection of their brand values and mission of bringing joy and happiness to people's lives. Furthermore, iHeartMedia is one of the biggest and most respected names in the music industry, known for organizing some of the best live concerts and events in the world.
So, if you're a music lover and crave unique experiences, this sweepstakes is made for you. Don't miss out on the chance to win the VIP trip of a lifetime. Enter today and start planning which live music event you'd like to attend. We can promise you that the memories you'll create will stay with you forever.
In conclusion, register for the Yellow Tail + iHeartMedia – Happiness Live Sweepstakes today and take the first step towards a fantastic music adventure. Who knows, this could be your chance to meet your favorite artists and experience the joy and happiness that Yellow Tail is all about. Good luck!
Claim this great opportunity today.