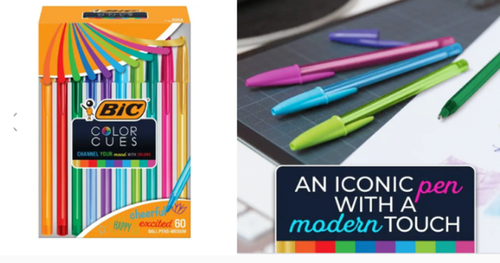 Possible Free BIC Color Cues Pens
Are you a pen enthusiast? Do you love adding a pop of color to your everyday writing? Well, we have an exciting offer for you! You have the chance to score some FREE BIC Color Cue Pens, and all you need to do is register and become a BIC member. Keep reading to find out how!
BIC is a renowned brand known for its high-quality writing instruments. The BIC Color Cue Pens are no exception. With vibrant colors and smooth ink flow, these pens will bring your writing to life. Whether you're taking notes in class, doodling in your journal, or simply jotting down your thoughts, these pens will make your writing experience more enjoyable!
To take advantage of this incredible offer, simply head to the link below and sign in (or sign up) to become a BIC member. Once you have successfully registered, keep an eye out for the BIC Color Cues Pens mission. It might be right there waiting for you, or you may need to explore a little. Don't worry; it'll be worth the effort!
Why become a BIC member, you might ask? Well, not only do you get access to exclusive offers like this one, but you also become part of a like-minded community of pen enthusiasts. Share your pen collections, get inspired by others' creativity, and stay updated on the latest pen-related trends and news.
Imagine receiving a pack of FREE BIC Color Cue Pens in the mail. The excitement of unboxing them, choosing your favorite colors, and putting them to use will be unbeatable. Whether you prefer writing with blue, green, pink, or all of them combined, these pens will add a touch of excitement to your everyday writing activities.
But wait, there's more! Once you have your BIC Color Cue Pens, why not join the BIC Color Cues Challenge? Show off your artistic skills by creating colorful masterpieces using these fantastic pens. Share your creations with the BIC community, and who knows, you might even win some additional prizes!
Don't miss out on this amazing opportunity to score some FREE BIC Color Cue Pens. Head to the link below, sign in or sign up to become a BIC member, and look for the BIC Color Cues Pens mission. Whether you're a student, a working professional, or simply someone who appreciates the joy of writing, these pens will bring a burst of color to your life.
So what are you waiting for? Register now and embark on an exciting journey with BIC Color Cues Pens. Join the BIC community of passionate pen lovers, create vibrant artwork, and make your writing experience extraordinary. Your free pens are just a few clicks away!
Click here to register and claim your possible FREE BIC Color Cues Pens.
Remember, life is too short for dull writing. Unleash your creativity and make every stroke a burst of color!
Claim this great opportunity today.