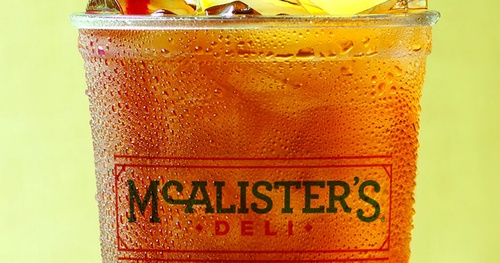 Title: Celebrate Free Tea Day with McAlister's Deli on July 20th!
Introduction:
Calling all tea enthusiasts and fans of McAlister's Deli! It's time to mark your calendars for the highly anticipated Free Tea Day on July 20th. Don't miss out on this exciting opportunity to savor the refreshing goodness of a 32oz Sweet Tea completely free of charge at your nearest McAlister's Deli location. Whether you're a loyal customer or new to the brand, this event is one that will surely quench your thirst for delicious tea. Read on to find out more about this incredible promotion and how to register so you don't miss a sip!
Discover the McAlister's Difference:
At McAlister's Deli, we take great pride in crafting the perfect blend of tea that tantalizes your taste buds and leaves you craving for more. Our Sweet Tea is renowned for its bold and balanced flavors, made from premium tea leaves and served in a generous 32oz cup. Each sip is a refreshing burst of sweetness that complements our mouthwatering sandwiches, wholesome salads, and famous spuds. From the first sip to the last, McAlister's tea is an experience that will keep you coming back for more.
Free Tea Day Extravaganza:
On July 20th, we invite you to join us for our highly anticipated Free Tea Day event. Whether you're a student looking for a break from studying, a parent seeking a refreshing treat, or a professional in need of a pick-me-up, McAlister's Deli is the place to be. From the moment our doors open until closing time, customers can enjoy a complimentary 32oz Sweet Tea, with no strings attached. It's our way of saying thank you for your continued support and love for McAlister's Deli.
How to Register:
Don't let Free Tea Day pass you by! Signing up for this exciting promotion is simple and can be done in just a few easy steps. Visit our website and navigate to the promotions page, where you'll find the Free Tea Day registration form. Fill in your name, email address, and preferred McAlister's Deli location, so we can ensure you receive the most up-to-date information about this event. Once registered, you'll receive a confirmation email with all the details you need to know about Free Tea Day, including participating locations and opening hours.
Spread the Word and Share the Love:
Not only is Free Tea Day the perfect opportunity to indulge in our signature Sweet Tea, but it's also a chance to spread the word to family, friends, and colleagues. Share the love by inviting them to register for this event and join you at McAlister's Deli on July 20th. Whether you connect through social media, send an email, or simply talk about it in person, encourage others to experience the refreshing taste of McAlister's Deli Sweet Tea for themselves. Remember, the more, the merrier!
Conclusion:
Mark your calendars and get ready to celebrate Free Tea Day at McAlister's Deli on July 20th. This exclusive event offers you the chance to enjoy a complimentary 32oz Sweet Tea, made with love and served with a smile. Don't miss out on this fantastic opportunity to treat yourself, connect with loved ones, and make lasting memories over a glass of our delightful Sweet Tea. Register now to secure your spot and be part of the McAlister's Deli Free Tea Day extravaganza. We look forward to serving you and making this day extra special!
Claim this great opportunity today.