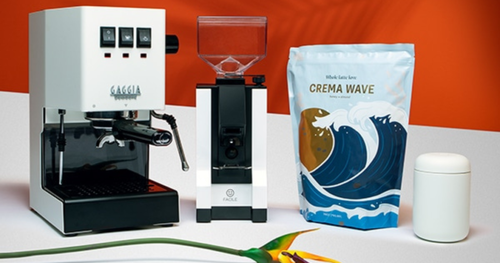 Title: Whole Latte Love July Giveaway: Win The Ultimate Coffee Lover's Prize!
Introduction:
Calling all coffee enthusiasts! If you've been dreaming of upgrading your morning routine with barista-quality brews, then you're in luck! Whole Latte Love is thrilled to announce our July Giveaway, offering you the chance to win the ultimate coffee lover's prize. Get ready to kick-start your mornings with exceptional, café-worthy coffee from the comfort of your own home. Read on to discover all the exciting details, and make sure to register for a chance to win this incredible prize!
The Prize:
We believe that every cup of coffee should be an exceptional experience. That's why we've put together a prize package that will make any coffee lover's heart skip a beat. Our July Giveaway includes:
1. Espresso Machine: This top-of-the-line espresso machine will take your coffee brewing game to unprecedented levels. Craft delicious shots of espresso, indulge in creamy cappuccinos, or create frothy lattes – the choice is yours!
2. Coffee Grinder: To ensure your coffee beans are perfectly ground for your preferred brewing method, we're including a high-quality coffee grinder. Say goodbye to pre-ground coffee and hello to freshly ground perfection!
3. Barista Tools: Elevate your barista skills with a comprehensive set of professional-grade tools. From tamper to milk jug, your home coffee station will be equipped with everything you need to become a true coffee connoisseur.
4. Gourmet Coffee Selection: Experience the finest flavors from different coffee origins around the world. We'll include a curated selection of specialty coffee beans that will delight your taste buds and awaken your senses.
How to Participate:
Participating in our July Giveaway couldn't be easier! Simply follow these three simple steps:
1. Fill Out the Registration Form: Click on our registration link and fill out the form with your name, email address, and country of residence. Don't worry, your personal information will remain strictly confidential.
2. Spread the Joy: Share this exciting giveaway with your family, friends, and fellow coffee lovers! Word of mouth is a powerful thing, and the more people who enter, the higher the thrill and excitement.
3. Crossing Your Fingers: Sit back, relax, and wait for your chance to be the lucky winner! Remember, multiple entries will not increase your chance of winning, so keep your fingers crossed and hope for the best.
Conclusion:
Imagine waking up to the irresistible aroma of freshly brewed coffee every morning, knowing that you have the tools to create a barista-worthy cup right at home. The Whole Latte Love July Giveaway offers you the chance to transform your coffee experience for good. Register now for this amazing opportunity and let your love for coffee flourish like never before.
Don't miss out on this incredible chance to win the ultimate coffee lover's prize! Enter our July Giveaway today, and get ready to elevate your coffee game to new heights. Good luck!
Claim this great opportunity today.