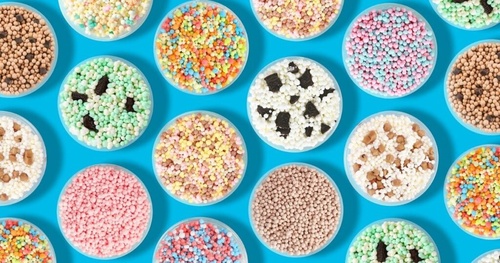 Title: Get Your Free Dippin' Dots on July 16th!
Introduction:
Who doesn't love free ice cream? Imagine indulging in the delicious, bite-sized frozen treats of Dippin' Dots without it costing you a penny. Well, mark your calendars because on July 16th, Dippin' Dots is celebrating National Ice Cream Day by giving away free mini cups of their iconic ice cream at participating locations nationwide! It's time to treat yourself to a cool and refreshing summer delight, completely free of charge.
The Joy of Dippin' Dots:
Dippin' Dots is a brand that has captured the hearts of all ice cream enthusiasts. Their unique flash-freezing process creates tiny, flavor-packed ice cream beads that melt in your mouth, delivering a burst of delight with each spoonful. With a wide range of tantalizing flavors to choose from, including classics like Chocolate, Vanilla, and Cookies 'n Cream, as well as innovative creations like Cotton Candy, Bubble Gum, and Banana Split, Dippin' Dots offers endless possibilities to satisfy your sweet tooth.
National Ice Cream Day Celebration:
To commemorate National Ice Cream Day on July 16th, Dippin' Dots is setting out on a mission to bring smiles to ice cream lovers across the country. Participating locations will be hosting a special 2-hour window during which you can grab a free mini cup of Dippin' Dots. It's a wonderful opportunity to enjoy your favorite ice cream, gather with friends and family, and relish in the festivities of this beloved summer holiday.
How to Claim Your Free Dippin' Dots:
To claim your free mini cup of Dippin' Dots, make sure to call ahead to your local store and confirm the specific giveaway hours for July 16th. Each location may have different time slots, so calling ahead will ensure you don't miss out on this fantastic promotion. Gather your loved ones, prepare yourself for a flavor-filled delight, and head over to your nearest participating Dippin' Dots store on that special day.
Spread the Word and Register:
Spread the word about this exciting opportunity by sharing this blog post with your friends, family, and colleagues. Encourage them to join in on the fun and enjoy the delightful taste of Dippin' Dots on National Ice Cream Day. But that's not all – don't forget to register for our exclusive mailing list to receive updates on future promotions, coupons, and special offers. By registering, you'll stay in the loop and never miss out on a chance to experience more delicious moments with Dippin' Dots.
Conclusion:
National Ice Cream Day is just around the corner, and what better way to celebrate than with a free mini cup of Dippin' Dots? Make sure to mark July 16th in your calendar, call ahead to your local store to confirm the giveaway hours, and get ready to treat yourself to a delightful summer indulgence. Don't forget to spread the word to your loved ones and register for our mailing list to stay updated on all things Dippin' Dots. July 16th is our day to savor the joy of Dippin' Dots, and we can't wait to share this sweet celebration with you!
Claim this great opportunity today.