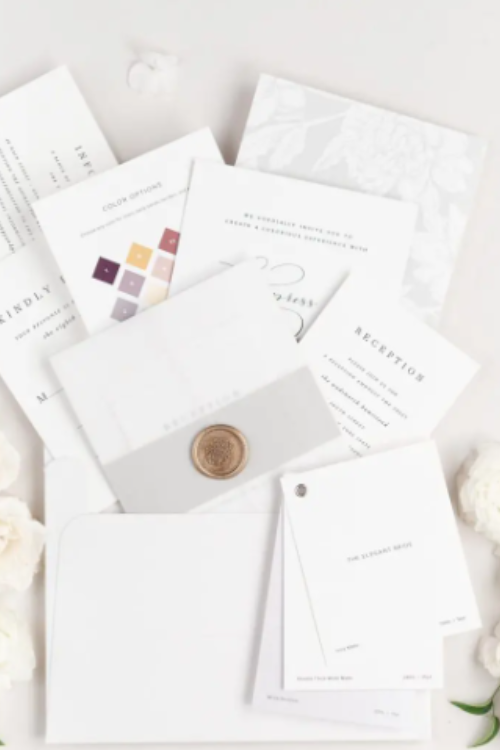 Are you or anyone you know getting married? If so, don't miss this hot free sample kit! Request your FREE wedding invitation sample kit with FREE shipping from Shine Wedding Invitations! Shine Wedding Invitations is a company that specializes in creating elegant and unique wedding invitations. They understand that your wedding invitations set the tone for your special day and reflect your personal style as a couple.
Planning a wedding can be both exciting and overwhelming, with so many decisions to make. One of the most important elements to consider is the design and style of your wedding invitations. Your wedding invitations not only inform your guests of the details but also give them a glimpse of what to expect on your big day. This is why it is vital to choose invitations that truly capture the essence of your wedding.
Shine Wedding Invitations is known for their exquisite designs and attention to detail. They offer a wide range of designs, from classic and timeless to modern and trendy. Whether you are having a rustic outdoor wedding or a glamorous black-tie affair, Shine Wedding Invitations has something to suit every couple's style.
Now, you may be wondering, why should I request a wedding invitation sample kit? Well, let me tell you! By requesting a sample kit, you can see and feel the quality of Shine Wedding Invitations' products firsthand. You can examine the paper, check out the print quality, and even get a sense of the colors and textures used in their designs. This way, you can make an informed decision about which style best suits your wedding theme and personal taste.
Not only is the sample kit completely FREE, but it also comes with FREE shipping! What could be better than that? You can browse through their stunning collection from the comfort of your home and have the sample kit delivered straight to your door. It's a win-win situation!
To request your FREE wedding invitation sample kit, simply visit the Shine Wedding Invitations website and fill out the form. Don't worry, the process is quick and easy. Once you've submitted your request, all that's left to do is patiently wait for your kit to arrive. And trust me, it will be worth the wait!
So, whether you're just starting your wedding planning journey or have already fallen in love with a particular design, I highly recommend taking advantage of this amazing offer. Not only will you get a glimpse of the quality and style Shine Wedding Invitations has to offer, but you'll also have the opportunity to experience the joy of holding your wedding invitations in your hands before making a final decision.
Don't miss out on this incredible opportunity to receive a FREE wedding invitation sample kit with FREE shipping. Request yours today and let Shine Wedding Invitations help make your wedding day truly shine. Visit their website now and be one step closer to creating the wedding invitations of your dreams.
Claim this great opportunity today.