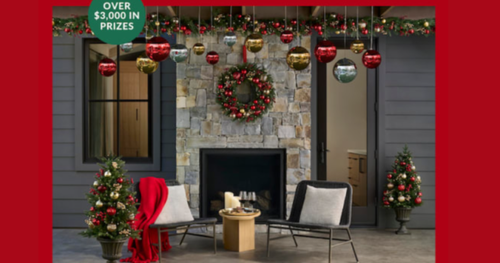 Title: Celebrate the Joy of Christmas in Summer with Our Exclusive Giveaway!
Introduction:
Hey there, holiday enthusiasts! Who says Christmas can only be celebrated in the winter months? Here at The Freebie Guy®, we believe that the spirit of Christmas should be embraced all year round. That's why we are thrilled to announce our exciting Christmas in Summer Giveaway, where you can experience the magic of the holiday season, even in the heat of the summer! So, grab your Santa hat, put on your shades, and dive into the festive cheer with us.
Unwrap the Joy:
Imagine waking up on a sunny summer morning to find a box filled with delightful Christmas surprises waiting at your doorstep. That's what our Christmas in Summer Giveaway is all about! We want to spread joy and make this summer season extra special for our valued customers. With a wide range of goodies that evoke the festive spirit, you'll get to relive the excitement of Christmas, but with a sunny twist.
What's in Store:
From beautifully decorated ornaments to delicious treats and holiday-inspired home decor, our giveaway prizes are sure to put a smile on your face. We've curated a collection of the finest Christmas-themed products that capture the essence of the holiday season, guaranteeing a memorable experience for all participants.
Not only will you have a chance to win these amazing prizes, but we'll also be sharing handy tips and tricks to help you recreate the Christmas atmosphere in your home during the summer months. Whether it's making refreshing eggnog mocktails or crafting beach-themed Christmas ornaments, we've got you covered.
How to Participate:
Participating in our Christmas in Summer Giveaway is easy! Simply register on our website using your email address and follow us on our social media platforms for updates, exclusive sneak peeks, and additional surprise giveaways along the way. By joining our community of Christmas enthusiasts, you'll gain access to all the latest news and promotions, creating a strong connection with The Freebie Guy® family.
Spread the Joy:
We believe that the gift of joy should be shared with loved ones. That's why we encourage you to invite your friends and family to join our Christmas in Summer Giveaway as well. The more, the merrier! Spread the word to help us create an unforgettable summer celebration filled with love, giving, and holiday cheer.
Conclusion:
As the hot summer days approach, let the magic of Christmas transport you to a world of joy and wonder. Our Christmas in Summer Giveaway is the perfect opportunity for you to experience the enchantment of the holiday season all over again, but with the added excitement of summertime. Don't miss out on this extraordinary chance to win fabulous Christmas-themed prizes and immerse yourself in the spirit of giving and togetherness.
Ready to embrace the warmth of summer alongside the magic of Christmas? Sign up toda
Claim this great opportunity today.