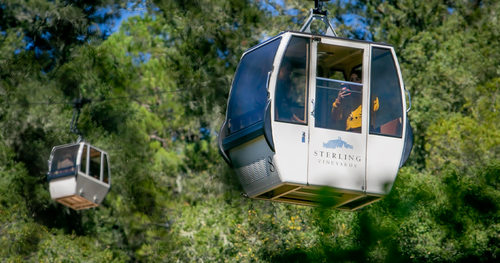 The Sterling Vineyards Grand Re-Opening Sweepstakes – A Golden Opportunity to Win Big!
Calling all wine enthusiasts and connoisseurs! We have some exciting news that is sure to make your taste buds tingle with anticipation. Sterling Vineyards is thrilled to announce the grand re-opening of our exquisite vineyard, nestled in the heart of Napa Valley. To celebrate this momentous occasion, we are hosting the Sterling Vineyards Grand Re-Opening Sweepstakes, where you have a chance to win fabulous prizes that will elevate your wine experience to new heights.
Imagine sipping on a glass of the finest Sterling Vineyards wine while taking in the breathtaking views of the vineyard. Picture yourself indulging in a gourmet wine-paired dinner specially crafted by our talented chefs. Envision the luxury of spending a weekend getaway in one of our elegant guest suites, surrounded by the lush beauty of Napa Valley. These are just a taste of the incredible prizes that await the lucky winners of our Grand Re-Opening Sweepstakes.
We pride ourselves on creating exceptional wines that embody the spirit of Napa Valley. With a rich history dating back to 1964, Sterling Vineyards has become synonymous with excellence and sophistication. Our vineyards are meticulously cultivated to produce grapes of the highest quality, and our winemaking process showcases the unique flavors and characteristics of the region.
Our Grand Re-Opening Sweepstakes is our way of giving back to the community that has supported us throughout the years. We want to share the joy and excitement of our vineyard's resurgence with all our valued customers. By participating in this sweepstakes, you not only have a chance to win extraordinary prizes, but you also become part of our growing Sterling Vineyards family.
So, how can you enter this remarkable sweepstakes? It's quite simple! Head over to our website and look for the dedicated Sterling Vineyards Grand Re-Opening Sweepstakes page. Once you're there, fill out the registration form with your name, email address, and contact details. It only takes a few moments, and you'll be one step closer to your dream wine-filled experience.
But wait, there's more! We encourage you to spread the word about our Grand Re-Opening Sweepstakes to your friends, family, and fellow wine enthusiasts. Share this incredible opportunity on your social media platforms, host virtual wine tastings with your loved ones, and let everyone know that Sterling Vineyards is back and better than ever.
Keep in mind that the more you share, the higher your chances of winning. Every person who enters the sweepstakes through your unique referral link will earn you additional entries into the draw. So, gather your wine-loving tribe and embark on this exciting journey together.
We can't express enough how thrilled we are to welcome you back to Sterling Vineyards. Our Grand Re-Opening Sweepstakes is just the beginning of an incredible chapter for us, and we want you to be a part of it. So, what are you waiting for? Head over to our website, register for the sweepstakes, and get ready to raise a glass to magnificent wines, unforgettable experiences, and a future filled with Sterling Vineyards' magic.
*Registration for the Sterling Vineyards Grand Re-Opening Sweepstakes is now open. Don't miss your chance to win big – enter today!*
Claim this great opportunity today.