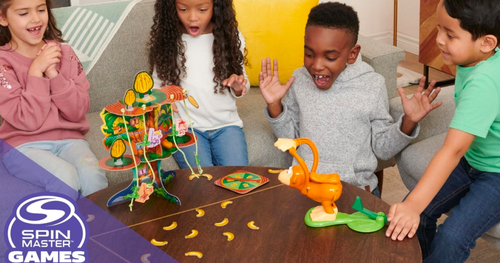 Title: Host the Ultimate Spin Master – Bunches of Fun Game Night Party!
Are you ready to bring excitement and laughter to your friends and family? Look no further! We have an incredible opportunity for you to be one of the exclusive hosts of a Spin Master – Bunches of Fun Game Night Party with Tryazon. With only 250 spots available, this is your chance to shine as the ultimate game night host!
As a host, you will receive a fabulous $60+ party pack filled with everything you need to make your game night a roaring success. In your party pack, you will find the hilarious Monkey See Monkey Poo game that will have everyone in stitches. Can you dodge the flying poo and become the ultimate primate expert? Only time will tell!
But that's not all! You will also receive the popular and suspenseful Hedbanz game. Challenge your guests to guess what's on their headband before time runs out! With over 70 cards, the fun never stops, and laughter is guaranteed.
Now, pause for a moment and imagine your living room transformed into a vibrant game night paradise. The air filled with excitement and friendly competition, as you and your guests immerse yourselves in the joy of playing these incredible games. Together, you'll create unforgettable memories and experiences that will be talked about for years to come.
But how do you become one of the lucky few to host this amazing game night? It's simple – all you have to do is register! Complete the application process, and if selected, you'll join an elite group of hosts ready to set the gaming world on fire.
Being a host not only means leading the fun; it also grants you the opportunity to share your experiences with others. Invite friends, family, and acquaintances to join your game night extravaganza, and let them witness the magic of Spin Master – Bunches of Fun Games. Trust us; they'll be begging for an invite to your next gathering after experiencing an unforgettable evening of laughter and entertainment.
So, why wait? Take a leap and apply to host a Spin Master – Bunches of Fun Game Night Party with Tryazon today! This is your chance to shine as the host with the most and make memories that will last a lifetime. Don't miss out on this incredible opportunity. Register now and get ready to experience the ultimate game night like never before!
Remember, spots are limited and the application process ends soon. So, gather your enthusiasm, get creative, and tell us why you'd be the perfect host for this game night extravaganza. We can't wait to see what you have in store!
Claim this great opportunity today.