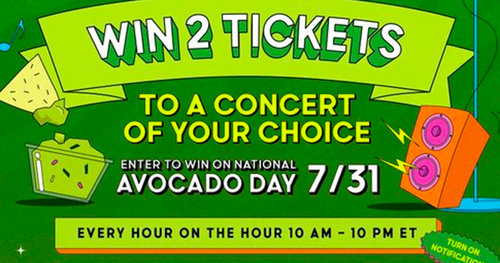 Title: Chipotle's "Get In The Pit" Promotion + FREE Guac Today!
Introduction:
Avocado lovers rejoice! It's National Avocado Day, and Chipotle has a special treat just for you. To commemorate this delicious occasion, Chipotle is offering a fantastic promotion – FREE guacamole with any entrée purchase. Get ready to indulge in the creamy goodness of guac, whether it's on the side or piled high on top of your favorite Chipotle order. Read on to find out how you can take advantage of this mouth-watering offer!
The "Get In The Pit" Promotion:
Chipotle knows how to celebrate National Avocado Day in style. For one day only, on July 31st, 2023, customers can enjoy FREE guacamole with their entrée purchase. It's the perfect opportunity to elevate your Chipotle experience and add a delightful twist to your favorite dishes. Imagine savoring the rich, creamy taste of guac paired with your choice of burrito, bowl, salad, or tacos – all for absolutely no extra cost!
How to Redeem:
Redeeming this amazing offer is as easy as 1-2-3! All you have to do is follow these simple steps:
1. Online Orders:
When placing an order online through the Chipotle website or app, simply enter the digital promo code "AVO2023" at checkout. This code will instantly unlock the magical extra of FREE guacamole to accompany your entrée. Make sure to double-check the date and mark your calendar so that you don't miss out on this limited-time opportunity!
2. App Orders:
Using the Chipotle app? No worries! During the checkout process, you'll have the option to apply a promo code. Enter "AVO2023" into the designated field, and voilà! The delicious free guacamole will be added to your order. It's that convenient!
3. In-Store:
If you prefer the traditional in-store experience, simply mention the promotion to the friendly Chipotle team members during your order. They will ensure that you receive the delectable free guac on your entree – a delightful way to celebrate National Avocado Day!
Take It To The Next Level:
In addition to the enticing free guacamole offer, Chipotle is supercharging National Avocado Day with a major giveaway. Don't miss your chance to participate as this exciting event unfolds! Follow Chipotle on social media and stay tuned for updates on this not-to-be-missed opportunity. It's an excellent way to add some extra excitement to your day while enjoying the flavors of fresh, handmade guacamole.
Conclusion:
National Avocado Day just got even more special with Chipotle's "Get In The Pit" Promotion. Treat yourself to a burst of flavor by indulging in FREE guacamole with any entrée purchase. Whether you're a burrito lover, a bowl enthusiast, or a taco aficionado, this limited-time offer is not to be missed. Remember to use the digital promo code "AVO2023" and redeem your free guac online or through the Chipotle app. Join the celebration, embrace the avocado spirit, and make your National Avocado Day a truly scrumptious one!
So, what are you waiting for? Head over to Chipotle today and enjoy your delightful, guacamole-filled experience!
Claim this great opportunity today.