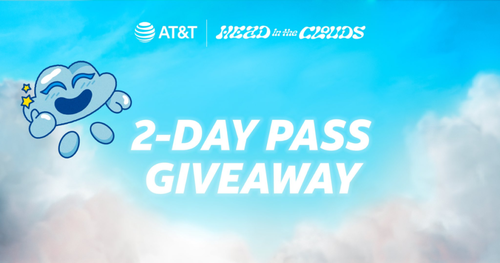 Title: Enter the AT&T Heads In The Clouds Giveaway and Reach New Heights!
Are you ready to soar above the clouds? AT&T is thrilled to announce our exciting new giveaway, aptly named the Heads In The Clouds Giveaway. It's our way of thanking our valued customers for their ongoing support and loyalty.
Imagine yourself floating amidst the majestic clouds, with the sun's golden rays casting a warm glow around you. The Heads In The Clouds Giveaway offers you a chance to defy gravity and experience the world from a whole new perspective. So, buckle up and get ready for an unforgettable adventure!
Why should you participate in this giveaway? Well, let us tell you about the incredible prizes that await our lucky winners. We are offering three grand prize dream vacations to breathtaking destinations around the world! Whether you've always dreamed of exploring the exotic landscapes of Bali, soaking up the sun on the pristine beaches of Fiji, or uncovering the history and culture in Rome, we have a prize that will leave you on cloud nine.
But wait, there's more! Alongside these incredible vacations, we have an array of fantastic secondary prizes up for grabs. Picture yourself with the latest gadgets in your hand – from the newest smartphones and tablets to cutting-edge smart home devices, AT&T has it all. You'll have the chance to win these and many more remarkable prizes to enrich your tech-savvy lifestyle.
Now, you might be wondering how to participate in this amazing giveaway. It's simple! All you have to do is register for the AT&T Heads In The Clouds Giveaway. Visit our website, [Insert website link], and fill out a quick registration form with your contact information. By doing so, not only will you be entering to win these extraordinary prizes, but you'll also gain exclusive access to the latest AT&T updates, promotions, and more.
Of course, we understand that participating in such giveaways can sometimes feel like a long shot. But we want you to know that your chances of winning are real. With AT&T, innovation and reliability go hand in hand. We are committed to providing outstanding customer experiences, and this giveaway is just one way we demonstrate our gratitude to you.
Imagine yourself as one of our delighted winners, packing your bags and embarking on an adventure that will create memories to last a lifetime. AT&T will make your dreams come true, and it all starts with a simple registration.
So, don't wait any longer – seize this golden opportunity to elevate your life to new heights of excitement and wonder. The AT&T Heads In The Clouds Giveaway is waiting for you!
Visit our website now and register for the giveaway of a lifetime: [Insert website link]. Let's make your dreams a reality!
Disclaimer: This promotion is open to U.S. residents only. Official rules and regulations apply.
Claim this great opportunity today.