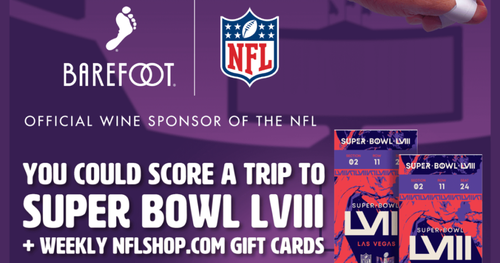 Title: Join the Barefoot Wine Sweepstakes and Uncork a World of Delight!
Introduction:
Calling all wine enthusiasts! Would you like a chance to win an incredible wine experience that will leave you floating on cloud wine? Look no further because the Barefoot Wine Sweepstakes is here to make your vinous dreams come true! Get ready for an exciting journey through vineyards, sipping on delicious wines, and creating memories that will last a lifetime. So, sit back, relax, and read on to discover how you could have the opportunity to sip, savor, and celebrate with Barefoot Wine!
Explore the World of Barefoot Wine:
Barefoot Wine, known for its refreshing and award-winning wines, invites you to experience the unmatched taste of their varietals. Whether you're a red wine fanatics or a lover of white on a summer night, Barefoot offers a diverse range of wines that cater to every palate.
Picture yourself strolling through picturesque vineyards, bathed in sunshine and surrounded by picturesque landscapes. The Barefoot Wine Sweepstakes has something special in store for one lucky winner. Brace yourself for an opportunity to explore some of the most renowned vineyards around the world with an exclusive trip!
Unwind in Wine Paradise:
Wine lovers understand the magic of visiting vineyards, tasting the fruits of the labor, and learning about the craft from winemakers themselves. Imagine indulging in guided wine tastings, where each sip reveals the distinct flavors and characteristics of Barefoot's finest creations. Get ready to enhance your wine knowledge and elevate your appreciation for the art of winemaking.
Discover the hidden gems of wine regions as you go deep into the heart of each destination. From Napa Valley's lush landscapes to the rolling hills of Tuscany, each winery offers a unique experience that will leave you spellbound. Learn about the rich history, cultural significance, and meticulous processes that make these wines so extraordinary.
Create Lifelong Memories:
Besides exploring vineyards and savoring delectable wines, the Barefoot Wine Sweepstakes offers unforgettable experiences that go beyond the glass. Take part in exclusive culinary events, where top chefs will delight your taste buds with carefully crafted wine and food pairings. Immerse yourself in the local culture through guided tours, exploring charming towns, and enjoying the authentic cuisine of each region.
But the adventure doesn't end there! Capture picture-perfect moments against captivating vineyard backdrops, creating memories that you'll cherish for years to come. Engage in interactive workshops led by passionate winemakers and soak up their expertise, allowing you to bring a piece of wine country home with you.
How to Enter:
Are you ready to dive into the world of Barefoot Wine and embark on this extraordinary journey? Here's your chance to make it happen! To enter the Barefoot Wine Sweepstakes, simply fill out the registration form below [insert link to registration form]. Don't miss out on this incredible opportunity to win the wine lover's ultimate dream experience!
Conclusion:
Calling all wine lovers and adventure seekers! The Barefoot Wine Sweepstakes offers an exciting opportunity to win an extraordinary wine journey, complete with vineyard tours, exclusive tastings, and much more. Explore the world of Barefoot Wine, indulge in sumptuous cuisine, and embrace the rich culture of renowned wine regions.
Take that leap of faith and register for the Barefoot Wine Sweepstakes for a chance to win this once-in-a-lifetime experience. Uncork the magic and let Barefoot Wine guide you through an unforgettable exploration of wine heritage. Cheers to unforgettable moments and delightful memories that only wine lovers can truly appreciate. Don't miss out – register today and get ready to experience the enchantment of Barefoot Wine!
Claim this great opportunity today.