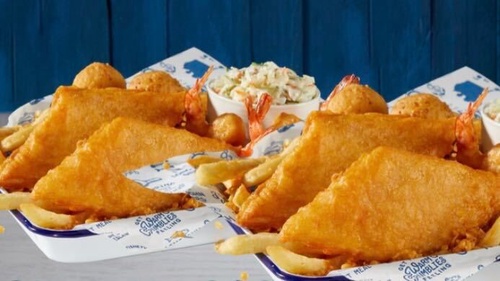 Title: Treat Yourself to a Delicious Deal: Enjoy Buy One Get One FREE Platters at Long John Silver's!
Introduction:
Are you craving a mouthwatering seafood feast? Long John Silver's has an irresistible offer just for you! For a limited time, when you purchase one platter, you'll receive another one absolutely FREE! That's right, double the deliciousness without breaking the bank! So, if you have a Long John Silver's nearby, get ready to indulge in a fabulous deal that will leave your taste buds tingling with delight.
A Platter for Every Seafood Lover:
Long John Silver's is renowned for its delectable seafood platters and has been satisfying customers' cravings for years. Whether you're a fan of crispy golden fish, succulent shrimp, or savory clams, their menu has something for everyone. With the Buy One Get One FREE promotion, you can treat yourself to two platters of your choice, making it the perfect opportunity to bring a friend along, surprise your family, or savor both platters solo!
Unleash Your Taste Buds:
Imagine sinking your teeth into a perfectly battered and fried fish fillet, accompanied by a generous serving of golden fries and a side of creamy coleslaw. Combining flavors and textures that are sure to satisfy even the most discerning palate, Long John Silver's platters are a seafood lover's dream come true. Bursting with freshness and flavor, their seafood is expertly prepared, making each bite as delicious as the last.
Value That's Hard to Beat:
At Long John Silver's, quality and affordability go hand in hand. With the Buy One Get One FREE promotion, you get incredible value for your money. Treat yourself to a satisfying meal without worrying about straining your budget. Whether you're planning a lunch date, a family outing, or simply want to indulge in a seafood feast, this offer is too good to resist. So why wait? Hurry and take advantage of this limited-time deal!
How to Redeem:
Redeeming this fabulous offer is as easy as pie. Simply visit your nearest Long John Silver's location and select your favorite platters. When placing your order, use the code "SUMMERBOGO" at checkout, and the second platter will be ABSOLUTELY FREE! Enjoy the convenience of this promotion by dining in at the restaurant or indulging in a cozy feast from the comfort of your own home. So don't miss out on this incredible opportunity to satisfy your seafood cravings while enjoying excellent savings.
Join the Platter Party Today!
Are you ready to embark on a seafood adventure with Long John Silver's? Gather your family and friends and make your way to your nearest location to take advantage of this fantastic Buy One Get One FREE platter deal. Treat yourself to a taste sensation that will leave you wanting more, all while enjoying unmatched value for your money.
Don't miss out on this limited-time offer! Visit Long John Silver's today and savor the joy of two delectable platters for the price of one. Indulge in irresistible flavors, share moments of delight, and make unforgettable memories. Use the code "SUMMERBOGO" when ordering and let the feasting begin!
Claim this great opportunity today.