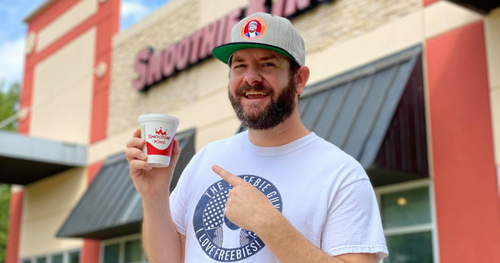 Attention Smoothie King lovers! Have I got an exciting offer for you. Yes, you read that right – a FREE 12 oz. X-Treme Watermelon Lemonade Smoothie! I know, it sounds too good to be true, but trust me, it isn't. This delicious smoothie is waiting for you, and all you have to do is register for it.
Now, before we dive into the details, let's take a moment to appreciate the wonder that is Smoothie King. With their wide range of smoothies and commitment to using only the freshest ingredients, Smoothie King has become a go-to destination for health-conscious individuals and smoothie enthusiasts alike. From classic flavors to unique creations, Smoothie King has something for everyone.
But enough about Smoothie King, let's talk about this incredible promotion. On August 3rd, 2023, you have the opportunity to indulge in a FREE 12 oz. X-Treme Watermelon Lemonade Smoothie. Can you imagine the refreshing blend of juicy watermelon and tangy lemonade? It's like summer in a cup!
So how do you get your hands on this mouthwatering smoothie? It's simple – all you have to do is download the Smoothie King app and join their rewards program. Once you're in, you'll find the offer waiting for you in the rewards section. With just a few taps on your smartphone, you'll be on your way to sipping on this delightful treat.
But the benefits of joining the Smoothie King rewards program don't end with a free smoothie. Oh no, my friend. By signing up, you'll gain access to a world of perks and exclusive offers. From discounts on future purchases to personalized recommendations based on your preferences, the rewards program is a true gift that keeps on giving.
Imagine enjoying your favorite smoothies while saving some extra cash – it's a win-win situation! Plus, with the app at your fingertips, you'll always be up to date with the latest promotions and new flavors. Never again will you miss out on a fantastic deal or a limited-time smoothie.
So what are you waiting for? Don't let this opportunity slip away. Be a part of the Smoothie King family, and join their rewards program today. Not only will you get a FREE 12 oz. X-Treme Watermelon Lemonade Smoothie on August 3rd, 2023, but you'll also unlock a world of benefits and savings all year round. It's a no-brainer!
Remember, this offer is exclusive to the Smoothie King app, so make sure you download it and register as soon as possible. You won't regret it, I promise. Smoothie King is waiting to give you the ultimate smoothie experience, and it all starts with that delicious X-Treme Watermelon Lemonade Smoothie.
Get ready to treat yourself, quench your thirst, and rejuvenate your senses with a free 12 oz. X-Treme Watermelon Lemonade Smoothie at Smoothie King. It's the best way to beat the summer heat and satisfy your taste buds. Don't miss out – join the rewards program today and enjoy the ultimate smoothie adventure!
[JOIN REWARDS/GET APP HERE]
Claim this great opportunity today.