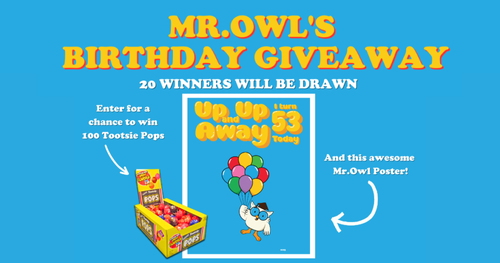 Mr. Owl's Birthday Giveaway – Register Now for Your Chance to Win!
Are you ready to join in the excitement and help celebrate Mr. Owl's birthday? Get ready because The Freebie Guy® is bringing you the ultimate birthday giveaway that you won't want to miss! We are thrilled to announce Mr. Owl's Birthday Giveaway, where you have the chance to win some amazing prizes and make this celebration even more special.
Who is Mr. Owl, you may be wondering? Well, Mr. Owl is not just any ordinary owl – he is the lovable mascot of The Freebie Guy®, always on the hunt for the best deals, discounts, and freebies. And what better occasion to celebrate with a giveaway than his birthday?
So, what's in it for you? We have handpicked a range of fantastic prizes that are sure to appeal to everyone. Whether you're a fashionista, a tech enthusiast, or simply love indulging in some pampering, we've got you covered. Picture yourself winning a trendy designer handbag, the latest must-have gadget, or even a luxurious spa day – the possibilities are endless!
Participating in Mr. Owl's Birthday Giveaway is easy. All you have to do is register for your chance to win. Simply head over to our website and fill out the quick and straightforward registration form. Don't worry, the form won't take up much of your time – we know you're eager to get back to celebrating Mr. Owl's special day! Once you're registered, you're officially entered into the giveaway, and the excitement can begin.
But wait, there's more! We understand that sharing is caring, which is why we've created an exclusive referral program for this giveaway. After you register, you'll receive a unique referral link. Share that link with your friends, family, and social media circles, and for every person who registers through your link, you'll receive an additional entry into the giveaway. Isn't it great? The more people you refer, the more chances you have to win those incredible prizes!
Now, let's talk about the winners. We will randomly select multiple winners from the pool of registered participants. Yes, you read that right – multiple winners. We want to spread the joy and make sure more people get to experience the excitement of winning. So, keep your fingers crossed, because you could be one of the lucky ones!
Mr. Owl's Birthday Giveaway is our way of showing appreciation to all our loyal followers and customers who have supported The Freebie Guy® throughout the years. We wouldn't be where we are today without you, and we want this celebration to be as memorable as possible. It's our small token of gratitude for your continuous support.
So, what are you waiting for? Celebrate Mr. Owl's birthday in style by registering for Mr. Owl's Birthday Giveaway today! Don't miss out on the chance to win those amazing prizes that will make this celebration even more extraordinary. Head over to our website, fill out the registration form, and get ready for an unforgettable experience.
Remember, the clock is ticking, and the giveaway won't last forever. So, don't delay and register now. Share the excitement with your friends and family too, because sharing the celebration doubles the fun!
Happy birthday, Mr. Owl, and good luck to all participants!
Claim this great opportunity today.