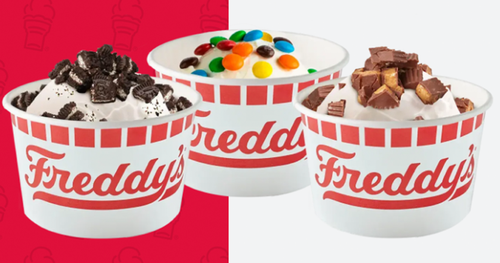 Indulge in the Irresistible Delight of a Free Mini Sundae at Freddy's!
Calling all dessert enthusiasts and ice cream lovers! Are you ready to treat your taste buds to a heavenly delight? Well, get ready for some fantastic news – Freddy's is offering a tantalizing deal that you simply cannot resist. For a limited time, from August 7th – 11th, 2023, you have the opportunity to enjoy a FREE Mini Sundae by simply signing up on the Freddy's App!
If you're not already familiar with Freddy's, you're in for a real treat. This beloved restaurant chain is renowned for its mouthwatering frozen custard, delectable sundaes, and a variety of other tempting treats. So, if you've been craving the perfect sweet escape, this promotion is tailor-made for you.
Now, let's dive into the details of this irresistible offer. All you have to do to claim your Free Mini Sundae is download the Freddy's App and sign up for an account. It's as simple as that! With a few taps on your phone, you'll be well on your way to enjoying a delectable Mini Sundae packed with all the creamy goodness of Freddy's famous frozen custard.
But wait, there's more! Even if you're already a loyal member of the Freddy's App, you won't be left out of this fabulous deal. As a thank you for your continued support, Freddy's will be adding the National Frozen Custard Day reward directly to your account. So, keep an eye on your app and get ready to treat yourself to a delightful surprise.
Now, we know you may be wondering, "How do I find a Freddy's near me?" Well, fret not! Freddy's has a strong presence across the country, so chances are you're just a stone's throw away from experiencing this incredible offer. With over [number] locations nationwide, finding the nearest Freddy's to satisfy your sweet tooth shouldn't be a problem.
Imagine savoring the creamy, velvety goodness of Freddy's frozen custard, perfectly combined with an array of delectable toppings, all in one delightful Mini Sundae. From hot fudge to salted caramel, crushed Oreo cookies to colorful sprinkles, your personal creation awaits your taste buds. It's an explosion of flavors and textures that will leave you craving for more!
So, what are you waiting for? Make sure you mark your calendar for August 7th – 11th, 2023, and get ready to claim your Free Mini Sundae by signing up on the Freddy's App. Whether you're a long-time enthusiast or new to the Freddy's experience, this offer is the perfect reason to indulge your cravings and enjoy a little sweetness in your life.
Remember, limited-time promotions like these don't come around often, so don't miss out on treating yourself to a delightful Mini Sundae from Freddy's. Download the Freddy's App, sign up, and get ready to embark on a journey of frozen custard heaven. Your taste buds will thank you, and you'll find yourself wanting to share this mouthwatering deal with all your friends and family.
Don't wait any longer – mark your calendar, download the Freddy's App, and get ready to claim your Free Mini Sundae. It's time to satisfy your sweet tooth at Freddy's, where every spoonful is an explosion of joy and flavor. Register now and embark on a journey of pure indulgence!
Claim this great opportunity today.