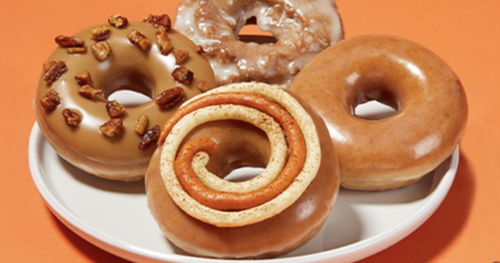 Free Pumpkin Spice Doughnut at Krispy Kreme on August 8th, 2023
Who doesn't love the sound of a free doughnut? Especially when it's the delectable Pumpkin Spice flavor from Krispy Kreme! If you're a fan of this seasonal delight, mark your calendars for August 8th, 2023 – because on that day, Krispy Kreme has a special treat just for you!
On this one-day-only event, when you make ANY purchase at Krispy Kreme, you can score a FREE Pumpkin Spice doughnut when you use the code "FREETREAT" at checkout. Yes, you read that right – a delicious doughnut at no cost to you! Whether you're a regular Krispy Kreme customer or have never tried their doughnuts before, this is an opportunity you won't want to miss.
Now, you might be wondering, "How can I redeem this offer?" Well, it's super easy! You can either use the Krispy Kreme app or visit the store in person. If you prefer the convenience of ordering through the app, simply select your favorite items, make sure to add the Pumpkin Spice doughnut to your cart, and at checkout, enter the promo code "FREETREAT". And just like that, your doughnut will magically turn into a free treat!
If you're more of a traditionalist and enjoy visiting the store, no worries! Simply head over to your nearest Krispy Kreme location, make any purchase you like, and let the friendly staff know that you'd like to redeem your free Pumpkin Spice doughnut with the code "FREETREAT". They'll ensure that you walk away with a scrumptious treat that will satisfy your taste buds.
So, what can you expect from this limited-time Pumpkin Spice doughnut? Picture a soft, melt-in-your-mouth doughnut, gently coated in a warm autumn-inspired glaze. With every bite, you'll be treated to the rich flavors of pumpkin, cinnamon, and a hint of nutmeg, bringing you the essence of fall in every indulgent mouthful. It's the perfect companion to your morning coffee or an afternoon pick-me-up.
But why stop at just one? This deal is too good to pass up, so feel free to treat yourself to more Pumpkin Spice doughnuts if you wish! Who says you can't have your doughnut and eat it too? Share with friends, co-workers, or loved ones and spread the joy of these seasonal delights.
Now that you know all about this amazing offer, there's only one thing left to do – mark your calendar and set a reminder for August 8th, 2023! Make sure you don't miss out on the opportunity to indulge in a free Pumpkin Spice doughnut from Krispy Kreme. It's a sweet treat that will make your day a little bit brighter.
So go ahead and savor the flavors of fall with our Pumpkin Spice doughnut, on us! Remember to use the promo code "FREETREAT" both in-store and on the Krispy Kreme app. We can't wait to see you on August 8th, 2023, enjoying the taste of this seasonal delight. Don't miss out – register now and treat yourself!
Claim this great opportunity today.