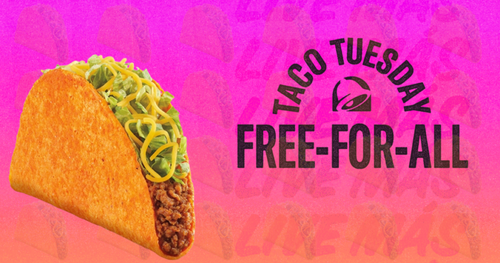 Taco lovers, rejoice! Taco Bell and DoorDash are teaming up to create a mouthwatering promotion that will leave you craving for more. Get ready for the Taco Tuesday Free-For-All celebration, where you have the chance to enjoy a delicious taco on us!
In honor of the liberation of Taco Tuesday in 49 states and to support restaurants who now have the freedom to champion this iconic day, Taco Bell is opening a $5 million taco tab in partnership with DoorDash. That's right – we are funding a taco extravaganza on September 12th.
Imagine sinking your teeth into a warm, flavorful taco, completely free of charge. Whether you prefer the classic Crunchy Taco, the melt-in-your-mouth Supreme Nacho Cheese Doritos Locos Taco, or the spicy and fiery Firecracker Burrito, this promotion has something for everyone. Indulge in your favorite Taco Bell treat, completely on us.
To participate in this incredible offer and have your taco dreams come true, all you need to do is register. By registering, you become part of this exciting event and get the chance to savor the unmistakable flavors of Taco Bell at no cost to you. Don't miss out on this opportunity to enjoy a scrumptious taco without spending a dime.
But let's not forget about the best part – our partnership with DoorDash. Thanks to the seamless integration of this popular delivery service, you can have your taco delivered right to your doorstep. Picture this: a knock on your door, and there it is – your steaming, delicious taco, ready to be devoured. Convenience and taste meet in perfect harmony for this once-in-a-lifetime promotion.
At Taco Bell, we understand the joy that a good taco can bring. It's more than just a meal; it's a celebration of flavors, a moment to indulge in pure culinary delight. And now, we want to extend this joy to you by covering a portion of your taco order with our $5 million taco tab.
So, what are you waiting for? Register now to be a part of this spectacular Taco Tuesday Free-For-All celebration. Don't miss your chance to savor the irresistible taste of Taco Bell tacos, completely free of charge. Prepare your taste buds for an explosion of flavor and let the taco love flow!
Click the link below and sign up for this incredible promotion. Join us on September 12th and let the taco adventure begin!
[Register Here]
Claim this great opportunity today.