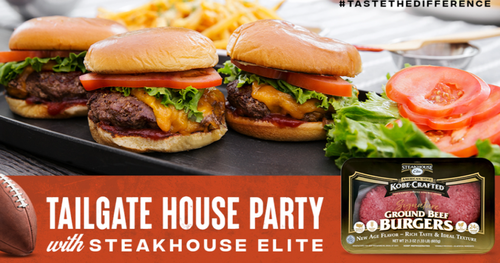 Title: Gear Up for the Ultimate Tailgate Party with Steakhouse Elite and Ripple Street!
Introduction:
Calling all tailgating enthusiasts! Are you ready to take your game day experience to the next level? Look no further because Ripple Street has an exciting opportunity just for you. Get ready to apply and host a Steakhouse Elite Ultimate Tailgate Party in partnership with Ripple Street. This is an amazing chance to showcase your grilling skills, create unforgettable memories, and indulge in mouthwatering steaks. Read on to find out how you can become the envy of your friends and neighbors!
Unveiling the Steakhouse Elite Ultimate Tailgate Party:
Ripple Street, a leading platform for hosting product parties and sharing experiences, is searching for 100 lucky individuals to host an exclusive Steakhouse Elite Ultimate Tailgate Party. With a passion for bringing people together, Ripple Street wants to give you the opportunity to transform your backyard into the ultimate tailgating oasis.
How Does It Work?
Applying to host a Steakhouse Elite Ultimate Tailgate Party couldn't be easier. Simply visit the Ripple Street website and fill out the application form. Tell us why you're the ultimate tailgating enthusiast and why you should be chosen to host this incredible experience. But that's not all! If selected, you'll be asked to share your party experience and provide valuable feedback.
Why Should You Apply?
Imagine turning your backyard into a vibrant tailgating paradise, complete with the tantalizing aroma of sizzling steaks wafting through the air. The selected hosts will receive a generous kit filled with everything needed to create an unforgettable party experience. From premium cuts of mouthwatering Steakhouse Elite steaks to grilling accessories and party decorations, you'll have everything necessary to host an epic tailgate party that your friends and family will talk about for years to come.
Not only will you indulge in delicious, top-quality steaks, but you'll also have the opportunity to show off your grilling skills and create lasting memories with your loved ones. From cheering on your favorite sports team to engaging in playful competitions, the Steakhouse Elite Ultimate Tailgate Party will bring to life the spirit of camaraderie that makes tailgating so special.
Wrap-Up and Registration Prompt:
Don't miss out on this incredible opportunity to host a Steakhouse Elite Ultimate Tailgate Party with Ripple Street. Apply now by visiting Ripple Street's website and completing the simple application form. Show off your passion for tailgating and steak and take your game day experience to new heights. Be one of the lucky few selected to receive the ultimate tailgate party kit and create memories that will last a lifetime.
The countdown has begun, so make sure to apply before time runs out. Let's fire up the grills, gather your friends, and get ready to host the most unforgettable tailgate party of the year!
[Registration prompt] Apply today and secure your chance to be a Steakhouse Elite Ultimate Tailgate Party host with Ripple Street.
Claim this great opportunity today.